Hi everybody, hope you all had a lovely weekend, you all must have been tired too like me, when you have festivals around, cooking, cleaning, etc.., Oooh!, me too, I too am soooo tired. I still have so many posts to catch, this is one from my draft, when I announced Parita's world, I was so disappointed I did not receive a single entry!, I love her blog so much and her as a person too., this creamy mascarpone cheese is one of her recipes my kids just love so much, I thank her for this recipe, I keep making this often. you try this and you will die for this too... If you are a pasta lover. I just tweeked the recipe a little bit to my kids taste.
Did you know something , Pasta cooked al dente has a lower Glycemic Index than the pasta cooked very soft so I found out googling!.
PEPPERS AND ONIONS WITH CREAMY MASCARPONE CHEESE SAUCE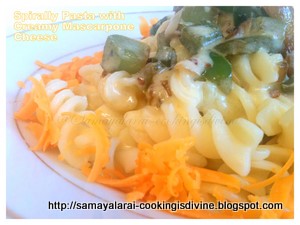 INGREDIENTS:
2 Cups Spirally Pasta
1 tbsp of Basil leaves
FOR THE MASCARPONE CHEESE SAUCE:
2 tbsp Butter
2 tbsp plain Flour
1 Cup Milk
250 gms Mascarpone Cheese
1/2 cup Grated Cheddar cheese
Salt as required
1/2 tsp of Pepper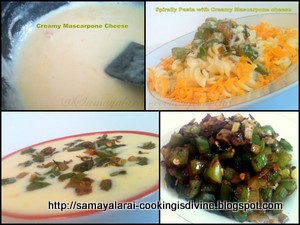 FOR THE VEGGIES:
2 tbsp Olive oil
2 Large Green Peppers
1 Medium sized onion
2 cloves garlic
1 tsp of Grated Ginger
1 tsp crushed chilli flakes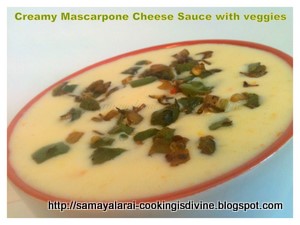 METHOD:
Cook Pasta as per instructions or until al dente ( it should be firm, not hard or not too soft).
In a wok or pan first heat 2 tbsp of Olive oil, add chopped Onion, Garlic and ginger and saute it for few minutes once they become transparent add chopped Green peppers and saute them in a high heat, they should not become soft but cooked crunchier. Just gives such a great a taste to the dish, then add salt as required and crushed chillies add it according to your taste if you don't want it you can omit it.
Take an other wok or pan heat 2 tbsp of butter once it melts Keep on low heat, add the flour and roast it for 3 to 4 minutes don't burn it , then start adding milk slowly until it gets well incorporated with no lumps keep on stirring continuously so that there are no lumps then add mascarpone cheese and mix it well until everything is combined properly, add required quantity of salt (remember you have already added some salt to your veggies) and pepper powder to taste, then add grated cheese and cook further for another 3 to 4 minutes until it reaches a saucy consistency,
Then to this sauce add the veggies mix well, pour this sauce over the cooked pasta, grate some more cheese and some torn Basil leaves for garnishing and serve it warm.
Mmm..., lovely, delicious Mum this is very nice.. was all the reaction I got from my kids!
Try it out tell if you liked it.... Check out some delicious recipes from her blog...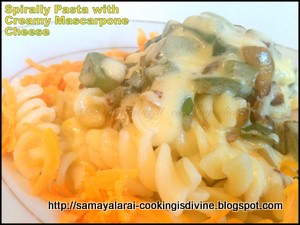 I am sending this to my own event only Pasta, pizza and noodles started by pari, guest hosted by me. sending this to herbs and flowers - Garlic by zesty palletes started by PJ.