Hi yaa, I am posting a third one today!, wanted to send all the posts as fast as possible and not to regret latter that I just couldn't make it, Sneezing like a thousand times, feeling sick, I decided I will do this now! and sleep tight and nice get up late in the morning tomorrow and dish up some Upma and start my chores later on..
I made this a few days back, Pasta has become like a back up for make some sauce and keep it or my daughter's make their own sauce and cook pasta and eat when they come home from school dying of hunger, especially my eldest is it a teen problem or a eldest sybling problem God knows she hates to eat her break-fast and gets on my nerves every morning.. Oops running the morning scene in my head, stop moaning to your friends women and get down to bussiness... sorry..., let me stop it right away and the bed is beckoning me!
PENNE PASTA WITH LENTIL SAUCE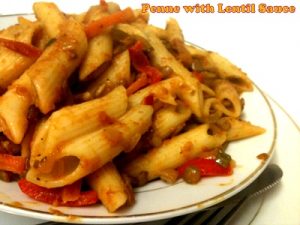 Recipe source: The complete Pasta cook book
INGREDIENTS:
350 to 400 gms of Penne Pasta
250 gms of Dried Brown Lentils
1 Litre of Vegetable Stock
2 to 3 tbsp of extra virgin Olive oil
1 Onion Chopped
2 Carrots
2 Celery stalks
1 Red Pepper
6 to 7 French beans
1/2 cup peas
3 Cloves of Garlic
3 stalks of Fresh Thyme leaves
1 Tbsp of dried Italian Spices
METHOD:
First of all wash the dried Brown Lentils and pressure cook them till soft, these lentils don't need soaking overnight they just cook like Thuvar dal, you can use any other lentils of your choice.
In the Mean time cook the pasta in a large pan of boiling water with a bit of salt and a tsp of oil so they don't stick together until al dente. Drain well and toss with 2 tbsp of olive oil to ensure that they don't stick together.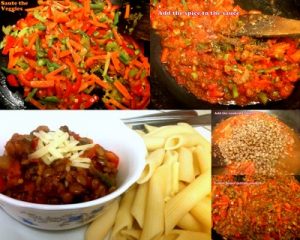 Slice all the Veggies and keep aside, Make your own stock or use a stock cube to make 1 litre of stock.
Take a wok heat oil then add the sliced onions and crushed garlic fry until they turn transparent. Then add all the vegetables and cook them well over a medium heat for 10 minutes add the stock and then the dried herbs and fresh Thyme. cook for few more minutes until the vegetables are tender. Then stir in the cooked Lentils adjust water let it syrupy at this point, adjust salt and combine the pasta with the Lentil sauce and allow it to cook for 2 more minutes by closing a lid. Serve it with cheese..
My kids just loved it.. hope you too make it and enjoy.
I am sending this to Lisa's kitchen who is hosting MLLA #29 of Susan's MLLA event.