Hi everybody, I know I am in a baking spree...., actually I hadn't thought of baking anything as I had baked two breads already!, will post them soon, but you know how I get tempted when I see breads, I saw this post of sanjeeta's in my blogger. I was so interested and immediately baked this boule.
Abbey Dodge
does a
#Baketogether
group and asks bloggers to bake with her and they are allowed to change it as they wish, I had book marked this page last time and I had completely forgotten about it.., as
Sanjeeta of Lite bite
says, I love my curry, rice and chapatis, but when it comes to baking bread, it is so theraupatic and thrilling for me when the dough rises and when baking I act like a kid and enjoy it so much..., how I can resist baking.., I usually use different flours to bake.., but decided this time not to do anything with the flour, as I thought this I will bake it as a loaf so my kids can use this for their Lunch box..., as the bread is is full of flavour and with cheese it will be great to taste.
Here is my version of Peasant Boule.... with Abby Dodge....
PEASANT BOULE WITH WHEAT BRAN AND HERBS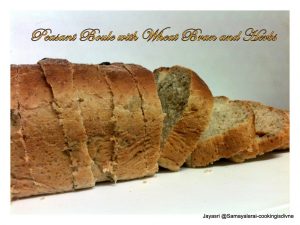 400 gms White Bread Flour
50 gms Wheat Germ
1 tbsp Rosemary
1 tbsp Parsley
1 tbsp thyme
2 tbsp of dried Peppers
1 Packet (around 2 and 1/2 tsp) active dried yeast
1 tbsp Sugar
1 and 1/2 tsp Salt
4 tbsp Olive oil
1 and 1/3 Cup warm water*
Take 1/3 cup of warm water to this add dried yeast and then sugar and just allow it stay in a warm place for 5 minutes.., I always do this even though it is an active dried yeast which doesn't require this necessarily, it is for me to assure myself or shall I say double check if my yeast is still active!
You can see little bubbles foaming up ! Yup! that means our yeast is active..
Next add salt, chopped fresh herbs and oil mix well to this add the measured flour and Wheat Germ with the help of a spatula start mixing it up by adding water, the water which has been indicated makes the dough a bit sticky not to worry,
With Lightly floured hands start kneading the dough for 10 minutes, I do not wish to you use more flour, so I did my hands in the flour what ever is stuck is fine this way you will not be using extra flour start kneading the dough this way the gluten will start working well.
Knead the dough for 10 minutes then oil the dough and place it in a bowl and cover it with a cling film which gives space for the dough to rise for around 45 minutes to 1 hour depending on the outside temperature.
Preheat the oven to to 190 degrees/Gas Mark 6 for 10 minutes
Once it is double the volume punch it down and knead it very lightly handle it carefully again and place it into the Loaf tin and allow it for the second rise.
Bake the loaf for half an hour to 40 minutes, until the bread is golden on the top, I check it out with a stick inserted to check if it is completely baked.
Take it out and leave it on the rack for 2 to 3 minutes then turn it over and remove it from the tin, If you leave it in the tin sometimes because of the heat of the tin they become soggy.., when you tap the bottom it sounds hollow that means your bread has been baked perfectly 🙂
Sometimes I put it back into the loaf tin inverted and bake for a further 2 to 3 minutes, and turn it out from the tin again, this way the whole bread gets a kind of crispiness.
Hope you enjoyed my Peasant boule, thanks to Abbey and to sanjeeta..., without her post I wouldn't have baked this bread. Check out Sanjeeta's healthy oatmeal honey Peasant boule.
Check out other bloggers who have baked with Abbey for bake together.....
Hopefully I will take some more photos of my bread tomorrow and update it again...
c u soon... take care....