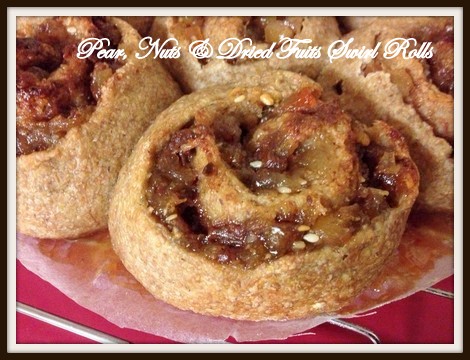 Hi everybody, it's been a long time since I blogged, I thought I could never blog again with lots of things going on, needless to say, everything seems to get alright now, with this I won't go straight to my recipe you have to wait, I have to say a few things which are very important to me.
Today is my Thanksgiving day..... I have to thank few people who have been with me, encouraged me and helped me through my blogging adventure.
Blogging has not only brought happiness to me as a passionate foodie but wonderful readers who even though I haven't posted for some time who still like my blog and some readers who still write to me asking queries which makes my day, and also my dear friends and family who have always encouraged me on this and insist I should not stop blogging.
Let me start with few of my blogger friends Swathi, Gayatri, Suzanne and Kalyani who stood with me when I was in trouble, and encouraged me to post when I could.  Thank you very much dears.
I would also like to thank Nisha, Swathi, Shabs Cp, Swasthi Blank and Meena Bhatia for helping me to get back to blogging, From Last 1 and 1/2 weeks I was trying to post my recipes and my blog was not allowing to upload any images I was so stressed out and I did know what was going on and just 2 days back I realised that I don't have any space in my Picasa Web album.  When I placed this problem in FB all these ladies helped me out and here I am blogging again.  Thanks to all of you.
I have been baking a lot these days, My bread seems to disappear quickly so I have to definitely bake bread twice at least in a week.   This bread was basically for my daughter who loves to eat her bread only with Jam, she is not like the other to eat bread with cheese, pickles and leaves.  I was planning to make cinnamon rolls, that was when I saw this month's MM#12 Kalyani announced Fruits and chocolate as the Magic Mingle Ingredients.  So, I changed the filling with fruits it turned out really tasty and smelled great.
PEAR, NUTS AND DRIED FRUITS IN SWIRL ROLLS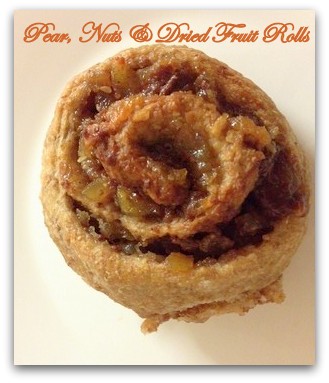 INGREDIENTS:
FOR THE ROLLS
150 gms Whole meal Strong bread flour
150 grms White Bread flour
25 grms Wheat Bran
25 grms Water Roux
1 tbsp Honey
1/2 tbsp Yeast
2/3 + 2 tbsp water
1/2 tsp salt
FILLING:
1 Large Pear
4 tbsp of soft Brown sugar
4 tbsp chopped dried fruits ( Papaya, Mango, pineapple)
3  tbsp chopped Nuts ( Almond, cashew, pista, walnut )
1 tbsp Honey
1/2 Cadbury flake
1/8th tsp Cinnamon powder and Nutmeg powder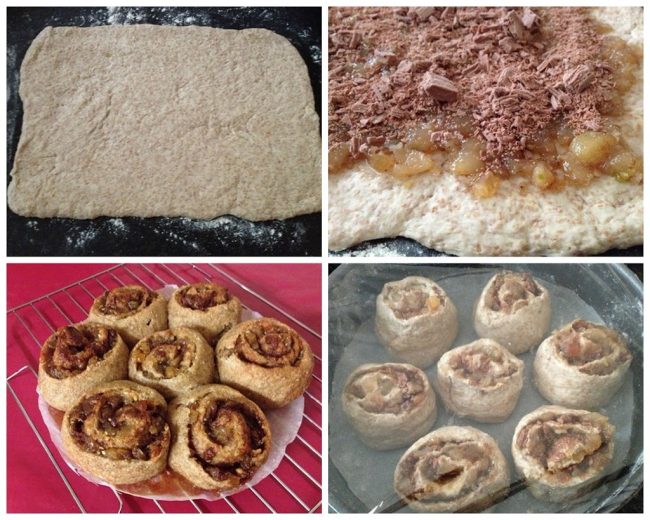 METHOD
Sieve together flours and bran, In a large bowl take yeast with 2 tbsp water and Honey and leave it for few minutes you can see small bubbles forming up that means our yeast is active now to this add all the remaining Ingredients under the Rolls add water as required, My flour needed 2/3 cup of water.
Just remember If you have prepared the Roux just then the flour might need more water, But if you had made it earlier like a day before and if it was stored in the fridge, add water little by little as you might not require the same amount of water and make it into a soft dough.
Knead dough for at least 10 minutes oil the dough and leave it to raise or double in size for at least 1 and 1/2 to 2 hours in a warm place
Meanwhile, make your filling.
Peel and chop pear into small pieces.  In a thick bottomed bowl take 4 tbsp of sugar, Honey and chopped pear and cook on a low flame with a lid closed after some time the pear becomes nicely cooked to this add the other Ingredients this helps in most of the liquid to get evaporated.  (do not add any water honey, sugar and the water in the pear helps it to get cooked ). It will be of semi-solid consistency, leave it to cool down.
Once the dough is raised punch it down and bring them all together, sprinkle some flour on to the surface and flatten the dough into a rectangle spread the cooled down filling on to it and roll down it from the long end.
Cut it down into 7 pieces, In each one of the pieces close one end of the filling by bringing together the dough together and place them on to the baking tray, line the tray with a parchment paper.
Preheat the oven to Gas Mark 4 / 180 degree
Leave the rolls for another 1/2 hour covered with a cling film the rolls rise again in a warm place. Once they raise.
Bake these rolls in a preheated oven at Gas Mark 4 / 180 degrees for around 25 minutes ( Check your oven temperatures ) until well done.
Take it out and leave it on a cooling rack.
Once it a bit cool enjoy these rolls...
Hope you like it...
stay tuned for more recipes to come soon......
This recipe goes to Magic Mingle #12 and also to Bake-a-thon.
Thanks to Champa of Versatile Vegetarian Kitchen who hosts Bake-a-thon every year, Last year I was planning to participate and before it began my computer busted and I just had to leave the group.  This year they had already started which I noticed today and wrote to her.  She and the other bloggers agreed to include me in their month-long baking marathon only this year it's going to be only for 3 days in a week and here I am with my first bake for this event.  The other bloggers who are with  Bake-a-thon are Preethi, Srivalli, Priya, Veena and sumana Deepak.
This recipe is also Yeast spotted.
Seniding this to Kriti's event, Brown sugar - know your sweetness, started by Jagruti