hi everybody, hope you all had a lovely time, quality time with your family and friends during deepavali, I did and we did enjoy had a good time. OK, an other Biscuit which I prepared on the same day as my cashew Biscuits, this too I got it from my recipe book!!, so, again I don't have the baking time or temperature. Here is how it goes.
PEANUT BISCUIT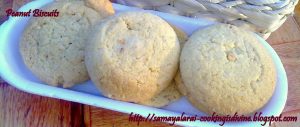 INGREDIENTS:
100 gm Maida/ All purpose flour
50 gm Butter
40 gm powered sugar,
30 gm Peanuts ( roasted & powdered)
2 tbsp Granulated sugar
1/4 tsp baking powder
1/2 tsp Vanilla essence
1/2 tsp powdered cardamom
a pinch of dry ginger
1/2 tsp pepper
salt to taste
METHOD
Sieve maida /APF & baking powder together twice.
Make a mixture of the ginger, pepper and salt.
Mix all the ingredients together to form a smooth dough
If needed add a little milk
Make small balls and arrange them on a baking tray and bake approximately around 20 to 25 minutes on Gas mark 4
Serve it hot with coffee or tea or you can much when ever you want or with a cup of cold milk too.