This is the first time I came upon this blog where in they pair bloggers and have to create from their site, I got tempted as usual even though I am not upto date with my postings, This blog
Taste and create
paired me with
Tasty curry leaf
, I started to know about this blogger because of an other club I joined, she has some wonderful recipes and a really a versatile blogger who blogs food from all over the world, you must visit her if you had not, I really had a tough time to create something, everyone of them was quite interesting, Here is a recipe I created from her kitchen to mine!!. I have just wirtten exactly in her words about this particular dish where it is from and what is its speciality (that's one more thing you can find from her recipes she does a lot of ground work)!!. coming back to the recipe.....she says....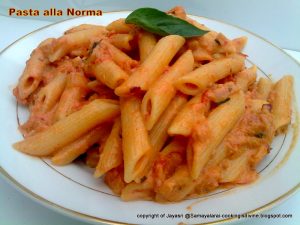 Sicily is a largest region in Italy and has contributed much to Italian Cuisine that it is sometimes known as God's Kitchen. Pasta alla Norma is a traditional Sicilian Pasta dish named so after the Norma-heroine of Bellini's Opera of the same name.
She says that in the Legend it says the opera was so successful and the chef who saw it was so delighted that he cococted the dish using all the Sicilian regional specialities and blended it with pasta and to show its perfection named it Pasta alla Norma honouring the opera, the artist Bellini who was born in Catania, Sicily and also the dish itself !!.
This dish uses eggplants, tomatoes and other flavourings and herbs available in Sicily and is blended with tubular pasta like Penne Rigate or even thin string Spaghetti is widely popular in Sicily. Here is her version of Pasta alla Norma.
Actually I showed this recipe in her blog and left it for my girls to recreate as my second daughter loves making pasta, both said they would do it!, I helped them to make pasta by just adding the seasonings so I will not be able to write the exact measurments as she always makes quite large quantities and loves keep eating them!!. I have written the exact replica what she has posted in her blog!. Please do check any more details in her blog.
The only thing I changed in this recipe was adding fresh Tomatoes pureed in a mixie which is what I have written in italics, The original recipe is in the Normal font.
INGREDIENTS:
2 Cup Penne Rigatte
1 tbsp Olive oil
1 Small Red Onion
1 or 2 cloves Garlic
1 medium Eggplants
1/4 cup Tomato Puree
1/4 cup Ricotta Cheese
1 and 1/2 cup Fresh Tomatoes pureed in a mixie
Fresh Basil leaves few
Salt as per taste
SEASONING:
A pinch of Dried thyme (I used 2 to 3 sprigs of fresh thyme)
1/2 tsp Red Pepper flakes
1/2 tsp Pepper
1 tsp of Italian dried spices
METHOD:
Chop the onions, garlic, eggplant and keep aside. Take a wok heat olive oil then add garlic, Once it browns, remove them from the wok add chopped onions and stirfry then add the chopped eggplant (she says add salt to the chopped eggplants prior and keep aside for 15 minutes, this helps in removing the bitternes if any but as I had no time to feed my 3 M's I just chopped and fried in the wok) Once they get cooked add tomato pureed in a mixie (I tweaked a little bit I added nearly 300 to 400 gms of Tomato as I had loads of tomatoes which had to be used and I used the tomato puree as said in the reicpe) Yup, quite a lot of tomatoes I added.
Now cook until the raw smell of the tomatoes disappear, and is well cooked, add all the seasonings and cook for few more minutes now the sauce is ready.
Meanwhile when the sauce is getting ready cook pasta as per the packaged instructions till al dante (firm but not hard).
Now add the pasta to the sauce with ricotta cheese and garnish with basil leaves and serve.
My pasta has different look than hers as I added more tomatoes and the kids added lot of cheese it turned into white in colour!!
Anyways the kids just loved it!! as I am not a big fan of pasta, I just tried a little bit (may be I could have more if there was not more cheese in it!!).
Thanks to curry leaf for this lovely delectable pasta just enjoyed both her recipes.