Of course everybody knows about Adai's they are so good to taste, but I wouldn't prefer to eat it more than 2 to 3 as it upsets my stomach!  Too many dals in it!
When I think of Adai I think of my MIL, the adais she prepared were absolutely gorgeous to eat.  she was preparing it just like Tamilnadu style i think, but what my mother prepared were good too, the taste was same but mom was too health conscious otherwise my dad would never touch it!, My MIL never grinded the adai into a very smooth batter it was more coarse and she would pour it just palm size and quite thick like an aapam. My mom used to grind it into a very smooth paste just like the dosa consistency and she would spread into very thin dosas like a paper dosa!.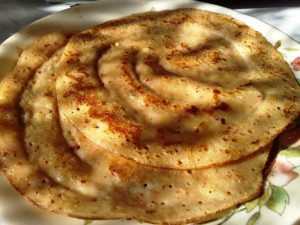 1 cup Raw Rice
1 fistful of urad dal
1 fistful of moong dal
1/2 cup of chenna dal
1/2 cup of Tuvar dal
salt as required
Soak all the Rice & dals for 4 to 5 hours this dosa doesn't need any fermentation, grind them to a smooth consistency and a little bit of asafoetida and mix well.
On a nice hot tawa spread the dosas little bit over the size of palm and cook them on both the sides 
Eat it with dosai molaga podi/chutney podi with lot of ghee 
VARIATIONS:
The above is just a basic method like my mom makes and my photos are just like what my mom made.
The way my MIL made was she used to grind Dosa in a coarse consistency, she also used to soak

7 to 8 red chillies  

with rice & dals and grind them together with a bit of asafoetida.
After they were ground she used to add

1/2 cup of fresh grated coconut, 1/2 bunch of nicely chopped mint leaves, coriander leaves, curry leaves.

If some more of the batter is left over the next day she used to add

onions

too!
And she used to prepare lovely thick fat adais and we used enjoy eating it with Desi ghee! it was one of her favourite tiffin varieties.
This dosa what my MIL made did not need anything to with just as it was a great dosa.