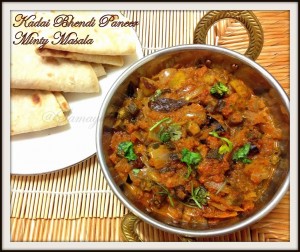 Paneer is made with milk, it is easy to make your own paneer it is like cottage cheese, you can get it in shops in blocks or cubes.., I love paneer only in sweet dishes like Rasgulla, sandesh and many more Bengali sweets which are my all time favourite, rather than the curries and Gravies.
My kids don't like Paneer at all even if you use them in spicy gravies or Curries, That is why you don't see lot of paneer recipes in my blog, especially my son, doesn't like it at all, Like me they also love to eat paneer only in Sweets :), Just like Momma.....
When
Kalyani
announced this month's
Magic Mingle # 5
challenge it was Paneer and mint, the first thought was let me dish out some pulav, Once I made pulav which is still in my draft and my son kept mumbling over it, My H loves paneer, that is why now and then I make it. But then I made some parathas which I will post soon, Before the parathas I made this curry, and to my astonishment, my twin girl loved it very much and even my son the curry was so tasty, totally it was only Kadai full, I made little so I don't have to eat it lunch, brunch and dinner if my kids don't like it.., But, to my surprise, it was all gone.., by the end of the day I can say I am going to make this again...
Hope you all like it and tell me how it turned out...., if you make it 🙂
PANEER BHENDI IN MINTY MASALA CURRY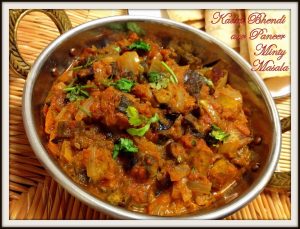 INGREDIENTS:
15 Bhendi / Lady's finger Small ones
1 Large Onion
1 tsp Ginger - Garlic paste
1 Tomatoes or 2 small tomatoes
1/2 Cup Paneer Cut into small cubes
1/2 tsp Coriander powder
1/4 tsp Cumin powder
1 tsp Chilli powder
1/4 tsp Amchur powder
1 and 1/4 tsp Salt
1/2 tsp mustard seeds
Oil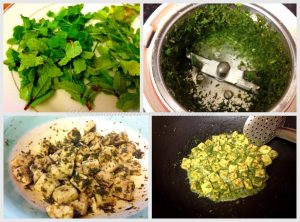 To Marinate:
2 Fist ful ( 4 Sprigs ) Mint / Pudina Leaves
1 fist ful ( 4 sprigs) Coriander leaves
1 Green Chilli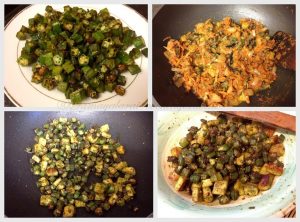 METHOD:
First of all Cut the cubed Paneer into still smaller pieces ( like four pieces ), then wash and grind the ingredients under marinate, add a tbsp of water if it doesn't grind then add this to the cut cubes, mix well and leave it at least for 1/2 an hour, or until you need it.
Next wash and wipe or dry Bhendis or Lady's Finger with a cloth, you have to do this so when you fry them they will not have that sliminess in them. Then cut the top and bottom of the bhendi's these days I just cut the top only and use the tail end of it too.., you can try if you like it or you can cut that end too. Then cut the Bhendi's into 1/4'' pieces and keep them aside.
Chop Onions and tomatoes and keep them ready.
Take a deep pan /or wok add 2 tbsp oil, fry these bhendis until they are soft and slightly crisp around and keep aside.
Then again add an other 2 tbsp of oil fry the marinated Paneer until they turn slightly reddish in colour, to this add a bit of salt and fry them and keep aside.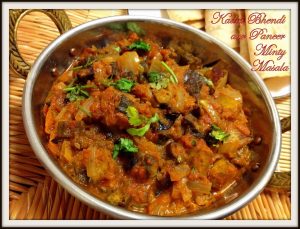 In the same wok / Pan add a 2 tbsp of oil when hot add mustard seeds when they splutter add Ginger-Garlic paste then add finely chopped Onions fry them until they are transparent then add finely chopped tomatoes fry them until they become soft, do all this in a low flame, so they don't get burnt.
Once they are done add the dry masala powders fry them for a minute, then add Bhendi and Paneer and mix them well add a cup of water or a little more if you like it a bit more in a gravy consistency.
Close the lid and keep it in a low flame for few more minutes which helps in absorbing the masala into them.
Garnish with chopped coriander leaves and serve it with Chapatis, pulkas or rice.
Tips:
Be careful if you add too much water then dissolve 1/2 tbsp of corn flour in 1 or 2 tbps of water and add it to the gravy, this helps in thickening the gravy.
Use the Dry masala ingredients to your taste, as they might be different from what I use. like my green chilli is too spicy so I have just used one, and even my chilli powder is too spicy so I have just used one tsp so, use it according to your liking.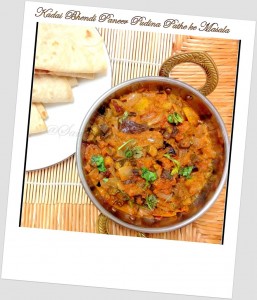 Sending this to Magic Mingle #5