When Kalyani announced Magic Mingle # 5, I was really not into it, as my kids are not a big fan of Paneer, So when I wore my thinking cap, everything seemed alright, put two and two together and I thought it will work..
I get so involved every time she announces that I indulge myself in trying out new ways, techniques and become more creative in thinking what I can do.., this is what I tried and turned out very well, my kids just loved it so much, It's such a keeper recipe, This monthly mingle of Kalyani's is such an enjoyable event as I keep trying new methods of cooking and baking.., here is one such thing.., I took a chance and it really worked out, go and try it out and tell me if you liked it.
Let us go straight to the recipe...
PANEER AND MINT FLAVOURED GARLIC ROLLS -EGGLESS


INGREDIENTS:
75 grms Minted Paneer
300 grms White Bread flour
125 grms Plain flour
2 tbsp oil
1 and 1/2 tsp salt
1 tsp Sugar
2 and 1/2 tsp Active Yeast
100 grms water roux ( Rice flour water roux )
1/4 cup water / or whey water from making paneer
1/2 Cup Milk
Rice flour water roux**
2 tbsp of Chilli flakes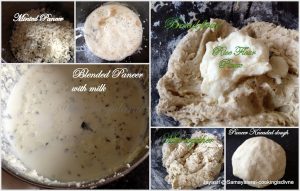 Method for Making Garlic butter
peel and chop around 6 to 7 cloves of garlic
chop 2 to 3 tbsp of coriander leaves / mint leaves
25 gms butter

Method for Mint Paneer
Check out this Link for making fresh Minted Paneer at home.
Method for making Water Roux
Check out this link for making Rice flour Water roux
METHOD: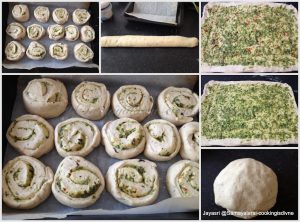 TO MAKE GARLIC ROLLS
First mix both the flours using a sieve or with hand until well combined.
In a large bowl, take 1 tbsp of warm water ( luke warm ) add yeast and a tsp of sugar, leave it for sometime in a warm place, you will notice the yeast bubbling up, this way we will be sure that the yeast is still active.
Meanwhile, In a mixie / food processor take minted paneer and 1/2 cup of milk, blend them together.
Pour this into the yeast bowl.
Add salt and flours into the bowl of yeast with water using a spatula or using your hand mix them together
to this add Rice flour water roux , mix them well together.
Then start kneading the dough, dust the surface and hand with flour and knead and stretch for 10 minutes, in few minutes you will see that the dough becomes soft and beautiful.
Oil the same bowl and roll this dough in it, and cover it with a cling film and leave it to raise in warm corner for at least 1 and 1/2 hours (depending upon the altitude and temperature of the place you are living ), you can mark the bowl or guess by eyeing that the ball has doubled in shape.
While the dough is rising make Garlic butter, Blend garlic cloves and chopped coriander and Mint leaves into a paste with a tsp of water.
mix this paste with butter and keep aside until needed.
Next punch the dough so the gases are released and spread the dough to a rectangle shape, spread Garlic butter on top of it and some chilli flakes to get a kick out of the rolls when biting into them!!
Now roll out the flattened dough from the longer side when you come to the end pick up the end portion lift it and join it to the top, this way you can be careful that nothing leaks out.
Dust the surface with flour and roll the rolled dough so they are evenly distributed and you would get a perfect log shape, cut them into equal portions.
Preheat the oven to Gas Mark 5/180 degrees, place a bowl of hot water underneath.
Place these portions on a parchment paper giving gaps, and allow it to raise again around 1/2 an hour, you can see that it would have swelled up again.
Brush it with milk and place the tray into the oven and bake for 25 to 30 minutes depending upon the temperature of your oven or insert a skewer which comes out clean telling you that the roll is done.
Take it out of the oven , leave it on the wiring rack for 5 minutes then slide them on to the wiring rack for it cool down, otherwise the bottom will get very soggy. as the bread still cooks because of the heat from the tin.
Serve it warm or cold with a hot cup of soup, or just eat it with sauces..
My verdict : My kids fell in love with these rolls, these rolls stayed soft. Keep it in a airtight container. serve it with soup or with ketchup, They even took it for their lunch boxes!!
Stay tuned I will soon be posting an other recipe with Minted Paneer....., later in the day...