Hi, everybody , Wishing All my Blogger friends and visitors of my blog a very happy Tamil New year & vishu to my malayalee friends!!, I just thought I will write about better late than never. Its been such a long time I posted any recipes, some of my friends are asking me what happened? and why i am not posting anything!!!, I was so busy after coming back from India, my children had kept 2 laundry bags full of clothes to wash!, My twin daughter told they had actually planned to do it on the day arrived because they were thinking i was going to land the next day and it was not their fault as I had come earlier to what they had in their plans, well, she is good driller basically, she is such a chatter box it is better to wash than to argue with her. As the sun is shining here had to do some cleaning up the garden, and friends visiting and staying with us!, slowly i am getting back to normality and reality!!.
Its been sometime I visited other bloggers and to find out what is cooking is their kitchen, now and then i did give a glance but desperate to check out in detail and wish to cook them in my kitchen. Hope I will sit back relax and read all of my favourite blogs, as soon as possible, well, let me get back to posting my recipes…..This is an other kind of sambhar from my dad's side……My Dad is basically from Hassan District and has some dishes exclusively from that side of the family like my Ubbu Rotti which i had posted earlier…
PACCHAI KOLAMBU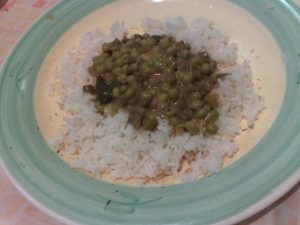 Ingredients:
1/4 Kg French or Dwarf Beans
1/4 Kg green peas (Fresh or Frozen)
4-3 Red chillies (Guntur-Badgi)
2 to 3 tbsp of grated fresh coconut
1 tbsp coriander seeds
1/4 tsp mustard seeds
1 tbsp dry coconut or copra or dessicated coconut
1 & 1/2 cup Tuvar Dal
1tsp turmeric powder
a pinch of asafoetida
METHOD
This a kolumbu or Sambhar variety in which nothing is roasted or fried and does not use Tamarind in it.
Using more coconut gives more flavour to the recipe and you can thicken the sambhar by adding more quantity of Tuvar dal or through the coconut or a bit of Rice when grinding the ingredients. Soak rice in a bit of water so it grinds into a smooth paste.
Meanwhile cut beans very small so that it gives a good combination with the peas, cook both the vegetables together.
Then cook the Dal in a separate vessel and mix them together
Grind all the ingredients without frying them into a smooth paste, mix it with vegetables and Dal and cook them until a nice aroma comes out of it.
Add 1 or 2 sprig leaves & season it with oil & mustard seeds
Serve hot with Rice, if you want when serving you can squeeze a bit of lemon juice if people like tangy smell in their food and with a nice pickle or papad.
my uncle Bhagavan mama was an Ace in cooking this dish he said a combination of both coconut & dry copra gave a different flavour to this dish.
Variation: you can cook this with cabbage it goes very well with it.