Hi everybody, Oranges and me have a great connection I think you might have noticed I have loads of Orange recipes in my blog, Oranges as we all know is good source of vitamin C, and I think this time of the year we definitely need it, Consuming Vitamin C rich food keep the cold away.., This also helps in the absorbtion of Iron when you are eating Iron rich food as well,  keeps the Haemoglobin content well.
Coming back to this cake, This is suppose to be a  Greek Cake which I got from a cakes and bakes Magazine, People in Greek bake this often and they love and enjoy it.  I searched few websites for this cake but ended up making from this magazine, as I liked the Idea of it.  Hope you like the Idea and enjoy it too.. as my family and friends did...
My Children loved it, they said it was sweet and moist, I made few changes adapting it to my way of baking, I have used silken Tofu in my bakes, but not to this quantity,  I tried and was quite satisfied, This particular cake was more interesting to me as I had  fruit in it and later on I decided to use cocoa powder in it so I could send it to Kalyani's Monthy mingle Chocolate and fruits, which I am posting it a bit late.  Check my notes for the changes I have made in this cake.
This cake stays moist for at least 5 days, no need to refrigerate it either (well I am talking about this climate)
KEIK PORTOKALI - ORANGE SEMOLINA CAKE - EGGLESS
Minimally adapted from Cake & Bake Magazine
INGREDIENTS: 
FOR THE CAKE
2 Medium Organic Oranges well Scrubbed
1/2 cup Olive oil
1and 1/2 Cup soft brown sugar
200 grms fine Semolina
1 Cup + 3 tbsp Mori Nu Silken Tofu ( around 300 gms )
50 grms Almond meal ( Powder )
1/4 tsp salt
1 tsp Baking Soda
1/2 tsp Baking powder
2 tbsp milk
FOR THE GLAZE:
1/2 tbsp Butter / vegan Butter
1/2 cup Icing sugar (confectioner's sugar)
1 tbsp of Milk / soy milk
1 tsp of Orange Blossom water
1 tsp of Orange juice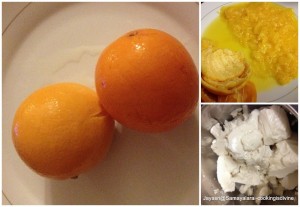 METHOD:
In a very hot water add two oranges in intervals of 5 minutes for 4 to 5 times keep changing the water that is after every 5 minutes throw away the water, use fresh hot water again and do the same way at least 4 times, this will remove the sourness of the orange skin. (even though not completely )
In a thick bowl boil the whole oranges in plenty of water until softened, almost about 1 hour in a low flame, with a closed lid which had a little hole in it. keep checking that they are well covered and keep adding hot water as needed.
Once it is cooked take out the Oranges, once they are cool, Quarter the oranges to ensure that there are no pips and seeds,  Puree the oranges skin and all in a blender or food processor until you have a smooth orange puree.
Grease a Bundt pan and coat it with flour and set aside.
Preheat the oven to Gas Mark 4 / 180 degree**.
Take all the dry Ingredients and sift them well together except cocoa powder and keep it ready.
Meanwhile Blend Tofu**  in a blender or Mixer until smooth with 2 tbsp of milk (see notes)
In a large bowl, pour this Orange puree into it, to this add oil, sugar and well blended Tofu puree also into it.
blend them all well together.
To this Blended Liquid mixture add the dry Ingredients until well incorporated.
Divide this mixture equally into two bowls to one of this bowl blend cocoa powder to this set aside.
Take your Bundt pan pour one spoonful of the white (not exactly) batter next the cocoa next to it then the white batter and next the cocoa batter on the next step alternate each batter on top of it as the batter is not very stiff but bit liquidy it spreads.
Once all the batter is used up.
Place it on the middle rack and bake it in the oven for 40-45 minutes**.
Once done remove it from the oven and place it on a cooling rack, after 10 minutes, remove it from the tin and allow it to cool.
Then I made the Glazing and poured it on to the top of the cake and leave it cool down.
Slice and enjoy the cake...
NOTES:
Blend Tofu in a blender or a mixer without any lumps, then add 2 tbsp of milk blend again so it is smooth and silky.
I always bake my cakes and other baked products in Gas Mark 3 as my oven has very high temperature, even though I have given the universal cake baking temperature.
You bake with your oven temperature and also check the timings as well.
ORIGINAL RECIPE IF YOU WANT TO TRY OUT:
Original Recipe calls for 5 eggs, 185 ml Olive oil, 140 gms caster sugar, 250 grms fine semolina, 80 grms almonds chopped and few chopped almonds for decoration.
This recipe also uses syrup to pour on to the cake after it is baked. for this syrup 125 grms caster sugar, juice of 1/4 lemon and 1 tsp orange blossom water
This recipe goes to my Bake-a-thon event by Champa and check out Priya, Suman, srivalli and Preethi
Sending this also to Kalyani's Magic Mingle - Chocolate and fruits