Hi everybody, hope you are all doing well, I made these during Diwali again and this time I took some photos , and believe it or not I made these already three times,  I am making these as we have fallen in love with these little darlings, which gives such a wonderful Orange flavour, and me in particular been obsessed and  fallen in love with them, as I keep telling everybody that I love Bengali sweets so much, I just can't resist them at all :). Basically  I Love all milk based sweets.   You might have noticed that I don't have many sweet recipes in my blog, as the two people who loved sweets also have reduced the intake of sweets, anything savoury is fine with us, it goes down with no fuss at all.
May be my love for milk is so much I can never become a vegan I suppose :(, or may be some day.....
Coming back to this sweet, the first time I made these it was a real flop because I tried to cook it exactly like Ordinary  Rasgullas, in the pressure cooker tried with one whistle I don't know what I did exactly now thinking about it I might have kept the cooker for a long period of time, it got dissolved and I didn't want to throw away so I made it into a
kheer,
so that's one recipe for you!, if disaster strikes!
Next time I was careful and did the job perfectly and made these little devils... aren't they cute...
ORANGE RASGULLA/ RASMALAI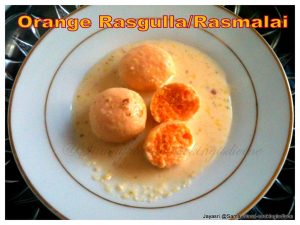 Recipe Source : Original
Prep time: 25 minutes
cooking time : 
Ingredients :
For Making  Orange Chenna/ Paneer :
6 pints milk (approx 3.408L) Full fat 4%
2 Oranges
2 tbsp Vinegar/Lime Juice
Method :
Take Milk in a bowl (I usually put a small spoon immersed in it and allow it to boil, immersing a wooden spatula in it.
Meanwhile scrape out the zest of one orange and cut it half and squeeze out all the juice and keep it aside, with the other orange cut it again in any way you want, and take out the slices nicely with out any pith (the white portions between the wedges), and keep them aside.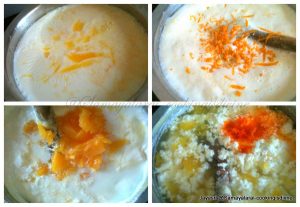 As you can see once the milk starts to form a layer around , mix it with the ladle add Orange juice and one or two tbsp of Vinegar/Lime juice, grated zest of the orange and the chopped Orange slice to it, You can see in each step the how the milk starts curdling and gives out the whey to this point you can add a 1/4 tsp of Orange food colour, if you want. well it gives a lovely colour to the dish in the end.
Once the curdled milk separates out take a muslin cloth/cheese cloth or any cloth from which you can separate out the whey and chenna/paneer.
Tie this cloth around a bowl or just put this cloth in a strainer and keep this strainer in the bowl, which helps to hold the cloth firmly then pour this on it, the whey separates out and the chenna/paneer stays in the cloth, keep the paneer in cold running water for few seconds just to get rid of the lime/vinegar smell, Now tie this cloth tightly and keep a heavy something,( I kept my granite mortar and pestle on top of it), I remove the whey water from the vessel use an other vessel keep my strainer again on top of it, then I keep my tied paneer cloth on it and the heavy weight on top of it, so the left over water in the paneer and cloth should come out completely, leave it like that for 1 or 2 hours.
Here take a look at my Orange Paneer.... Looks gorgeous isn't it 🙂


with little specks of Orange segments peeping through :).....
well, coming back to the recipe...
So once your Chenna/Paneer is completely drained out,  you have to make Rasgullas out of it so what you have to do is.....
Ingredients:
To make Orange Rasgullas:
Orange Chenna/Panner (recipe above)
1 tbsp Soji/1 tbsp Maida or APS ( I added a bit more )
1 tbsp sugar
To make Orange syrup for the Rasgullas
5 to 6 Cups of Water
3-4 cups of sugar (depending upon how much sweet you like)
1 tsp of Crushed cardamom
1/2 tsp of Saffron (pre-soaked in warm water)
1 tbsp Orange essence
1 tsp of Rose water
dissolve 1tsp of APS/Maida 2 to 3 tbsp of water
METHOD:
Now to this paneer and add the above said ingredients and knead till the dough is soft and smooth, you may add a bit more to get the right consistency, don't knead too hard as you can see that there are bits of orange segments.
Make small balls out of these they might not become too big as the normal Rasgullas do, but don't make the balls too big as they are going to expand when on cooking. Do make sure the balls are crack free.



Now on to make the Rasgullas ( sweet balls)
Take a wide bottom vessel/Pressure cooker/Stock pot, Add water and sugar, allow it to boil, until the sugar dissolves, keep stirring, so the sugar dissolves quickly and sugar water starts boiling to this add the rest of the Ingredients, and bring it to low flame.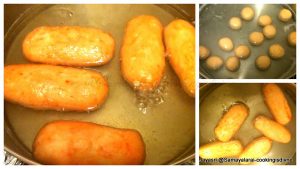 Add the balls one at a time, you should not forget to keep the flame low and allow it cook for 30-35 minutes with a closed lid, check now and then, it is good you have a see through lid on :), just makes life easier!
One more little tip dissolve maida with water as mentioned above and add this to the water and pour it into the vessel/cooker you can see Rasgullas floating on top soon.
If you are using a pressure cooker close the lid and put on the weight, keep it on a low flame and check every 15 minutes to be sure that they don't break up (remember because you have orange segments in them!).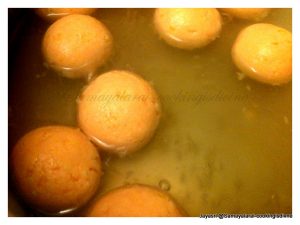 you can see that they have grown big :), that's delightful isn't it...
NOW TO MAKE RASMALAI (JUICY CREAM)
Ingredients:
1 and 1/2 to 2 lts milk (whole milk)
1 cup of the sugar syrup ( from the above recipe, In which you have soaked and cooked the Rasgullas)
1 cup of Sugar (because we have sweet tooth! increase or decrease as you like it)
2 to 3 tbsp of chopped almonds and pistachios ( I love nuts so the extra helpings )
1 tsp of Saffron (Pre-soaked in 2 tbsp of warm milk)


Method:
You can start making this when you drain and hung your paneer to completely drain, as Malai takes a little longer and more gas consumption :).
In a wide vessel boil milk ( I put a steel spoon just to make sure that it doesn't burn the bottom), put a ladle in too, allowing it to boil, stirring now and then as it keeps forming layer, the milk should get reduced to half and becomes more thicker that is the water content in the milk is gone.
1.Other wise to make the process much quicker you can add 2 to 3 cartons/tins of evaporated milk with 2 to 3 cups of milk and allow it to boil this becomes fairly quickly thicker, but I prefer my old method
2. Otherwise you can add a tinned of condensed milk with ordinary milk make a thicker consistency of the Rasmalai for a quicker version but remember to reduce the quantity of sugar when you add as condensed milk is already sweet
You can see the malai in these clicks how much fat content it has!.
So Once the milk gets thicker, add the rest on the list of the Ingredients, and allow it to boil for few more minutes so that they all combine and give a lovely flavour to the milk.
Now take out the Rasgullas and squeeze out a bit ( try not to break it!) so the water content is gone ( or reduced), put these balls into the Malai that is the creamy milk and leave it an hour or so, you can even soak it overnight and place the container in the Refrigerator and serve this delicious, Gorgeous looking Orange Rasgullas ( try not to eat it when making it, I couldn't resist so gobbled a couple).
Hope you go and try them and tell me how it turned out... and I will be very thankful to you, if you left me a comment about it!
Here is one last look of my sweet little dumplings....
ORANGE RASGULLAS/RASMALAI  FOR YOU ALL,  A VIRTUAL TREAT FOR MY LOVELY FRIENDS....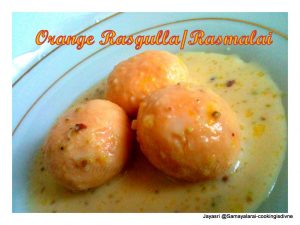 verdict: If you love oranges just like me, you will love this sweet, my family and friends were very happy and loved it very much, the best was I had my old land lady Emma visiting me on Diwali day, and I had cooked my formula festive recipe and I couldn't give her anything to eat, except for some savouries, she is not fond of our sweets as they say our sweets are too sweet for them...., I thought let me give her this a try.., she was delighted at the orange flavour so much she emptied her bowl and gave it back to me!, she told me, I don't know  how the original Rasgulla tastes like, I like this Orangey flavour, stick to this I love it ..... :), hahaha .
She is my favourite, even though I don't live in her house anymore, she never forgets to come to my place when ever she is in town :), she is 10 yrs younger to me!, I love her to bits, she always tells me whenever I enter your house the curry smell makes me hungry, she loves Indian  food (as it is difficult for her to eat spicy food) she loves  the combos I make her for her to enjoy our food and  make it less spicy for her to enjoy.
This time she even burst some crackers with us, and said  as it was the first time ever in her life she was bursting crackers and she enjoyed it so much, she was ever so delighted....., Oh! bless her.., thanks Emma..., Love you always...
C u soon with an other recipe , take care.......