Hi Everybody, hope you are all doing well, I hope to keep blogging on a regular basis from now on :), and here I come with end of the month with this wonderful event of Pari of Foodelicious – A series of Only Event.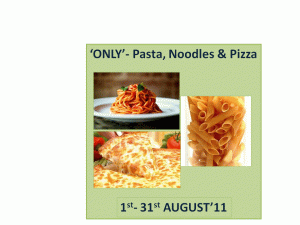 Pari of Foodelicious gave me this lovely opportunity to host her Only series event and I love to sincerely thank her for this. Of course you all know Pari, with her lovely curries which I like the best and her creativity and her cooking style, I have a few of her Book marked recipes some tried out and some still need to try out. Coming to talk about the on going event in her blog has a lovely theme as – ''Only'' interested me the most, this made me contact her, I just decided whatever she assigns me would be fine, Surprise, surprise and it was Pasta, Pizza and Noodles, Wow, that was my first expression, how did she know that my kids love all the three!, So, that's it, I was fine with it and here we are with the

ONLY PASTA, PIZZA AND NOODLES EVENT

.
I would love to see all the different kind of sauces, creations of cusines and cultures which would be a great help for me try out new dishes for the above three which I would love to try out from your kitchen to mine, as my kids love all the three Goodies.
There is something else for you, which you would certainly love guess what ?. Again this month Pari has announced a giveaway from Tarla Dalal, exactly you heard me right ? not just one giveaway but two books 🙂
She is giving away two books from the wonderful author :
1. Noodles
2. Pizzas and Pasta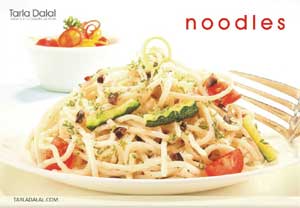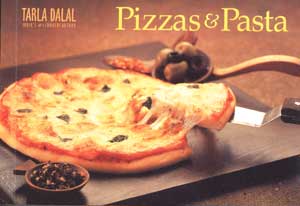 Rules for giveaway


For winning the giveaway the participants after sending the entry to me have to leave the link of the entry in Pari's event announcement page and have to clearly inform Pari how they are eligible for it as
1. You need to follow her blog publicly and
2. You have to be a fan on the face book page in her blog.
The winner has to provide Pari with the address at cookingoodfood@gmail.com so that she can make arrangements for the giveaway delivered to your door-step!.


Rules of The Event
1. Any number of fresh entries can be sent but only 2 enties from the archive will be accepted. Archived entries to be reposted, else will not be accepted.
2. Only vegetarian dishes accepted (eggs allowed).
3. Use of logo is mandatory as it helps spread the word.
4. The entry should be linked back to her event announcement page and
Pari's 'Only'- Pizza, pasta and noodles giveaway page.
5. The winner of the book from Tarla Dalal will be chosen by Pari by random. org at the end of the event from the links left in her event announcement page.
6. Format of entry
Name
Blog's name
Blog URL
Recipe name
Recipe link
Pic resized to 300pixel
Country (this is an important field to be filled as it will be easy for us to know whether he/she is from India or abroad, hence applicable for the giveaway)
7. I will post the round up within 7 days of event completion unless there's an emergency.
8. I cannot win the giveaway as I'm guest hosting it.
9. Non bloggers can also participate, in that case they can send entries to me and I can post them on their behalf.
Please send in your entries to
cookingisdivine@gmail.com
by the 31st of August 2011 with the subject

Only Pasta, Pizza and Noodles
Any queries please do drop me a line, will talk to pari and sort it out for you..
Happy Making/Baking of Pasta-Pizza and Noodles…