This snack you can get in all the road sides of Bangalore, it's absolutely delicious and on a rainy day it is a great snack to munch!! Everybody would be knowing how to make this, It just happened my hubby's friend somy came to my house, he loves cooking and I used to teach him rasams, sambhars etc., He was asking me about Onion Baaji, which is sold every where here in supermarkets to most food joints, he was wondering what it was and how to make it, I offered him Chai / Tea and told him I was going to make it for him in minutes, I told him it might not taste like the ones he buys but would taste much better. The ones we get here have more Gram flour and with north Indian spices much like a Baajji rather the pakoda we prepare, I told him about the difference and showed him how to make it.
But then I wanted to make a little difference so I added some cashew nuts , Of course my husband loved it, as always he goes nuts over the nuts in dishes…….
ONION BHAJI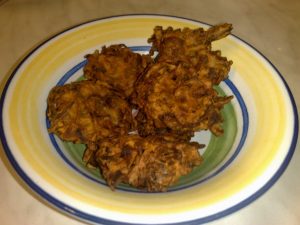 Ingredients:
2 Medium sized Onions
8 to 10 cashew nuts
1 sprig of curry leaves
4 tbsp of Bengal gram flour
2 tbsp rice flour / Chutney dal powder **
1/2 tsp chilli powder
salt to taste
2 to 3 Green chillies
a bit of Ginger
METHOD:
Chop onions length wise, green chillies thinly sliced, grate ginger , curry leaves also chopped.
Add required quantity of salt, mix it with the above ingredients and leave it for few minutes, The onions with the help of salt gives out water on its own!!
Then mix in the cashews and the flours, add water if it is very powdery by sprinkling little by little, do not add too much water, then the pakoras will never turn out crispy.
Heat enough oil in a deep frying pan, that is enough to fry the pakoras, just take them in your hand no need to give them any shape, they can be dropped in the oil in irregular shapes and sizes.
Deep fry them and serve them with nice Aromatic chai.
NOTES:
There is no need to actually add water usually the onions have the water content which would be enough.
** Chutney Dal is nothing but Roasted split gram/ Dharia Dal/ Hurigadale in Kannada / Pottukadalai in Tamil / which is used in making fresh chutney to go with Idli and Dosa, using this Dal in powdered form instead of Rice flour gives very crispy pakoras.
Adding a pinch of baking soda gives soft pakoras.
The Baajis you get here have more of gram flour, which are more like lentil vadas we prepare in shape and size and also have garam masala, kalonji, cumin and coriander powder with coriander leaves as well.