As I said in my earlier post I had soaked for Dosa and it just fermented so well within a night without me doing all kind of possibilities I take like keep it near the heater or in the oven or find a place warmer, this was so good I thought when I saw the batter had oozed out from the container I was so very happy.  I just decided I will Onion Dosa, my MIL always liked the way I did onion dosa and she always said it just tasted like you get in the hotels!!, But, now she is no more to appreciate my Dosas, when ever I make the dishes she appreciated I always remember her, it has become just like a routine to me and if anybody has come to my house at the right time, I will definitely not forget to tell them!!, I have become like a broken record.  Well, I must tell you she used to make lovely Dosas and I liked her Adai too…, soon I will post that too…, As my FIL has come to visit us I will definitely making it as he loves adais, I think he misses his wife's touch in it.., well, I try to make, though I do not make as she does.
The Dosas she used to make were very soft and like  a flower it was, may be it makes a lot of difference when you grind it in a grinding stone than using a grinder or a mixer, actually when I was writing this I thought rather, remembered it does really make a difference because in amma's house, amma used to grind for vadas in stone and it used to taste so well, than in the mixie.  The other thing is you can grind coarsely as you want it to be than in the grinder or mixer you can achieve the perfect consistency.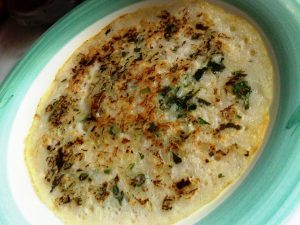 4 cups Raw Rice
1 cup whole Urad dal (not split)
salt as required
1 tbsp of Fenugreek seeds
4 to 5 finely chopped onions
3 to 4 sprigs of curry leaves
5 to 6 green chilies
1/4 bunch of coriander leaves
Soak Rice & Fenugreek seeds together  and Urad dal separately for 7 to 8 hours or soak them overnight and grind them in the morning into a smooth batter.
Leave it to ferment for about 6 to 7 hours or leave it overnight if you have soaked in the morning and grinded it by night.
Chop onions, coriander leaves, curry leaves and green chillies finely, mix them all together and keep it aside in a bowl
Take the batter in a container and add water to the consistency of pouring Dosas
Heat a Tawa, just hold your hand a little above the tawa to know that it is hot or heated up then take 1 & 1/2 ladle of Dosa batter , pour it on the tawa and spread it on the tawa not too thin, let it be thick
Immediately sprinkle the mixed onion mixture evenly on it, press them a little so they get stuck to the batter & allow it to cook for 2 to 3 minutes.
Then flip it over carefully, and cook for another 2 minutes, then turn it back and serve hot with coconut chutney or what ever you prefer to eat it with.    
If you do not want to flip it over you can just cook it on one side and serve it just like that too…
PS: 🙂 I did not have too much onions that day, that is why my dosa is not upto the mark…, but I just thought let me as well post it.