Okra is one of the vegetables which is my favourite  of all the veggies, all my kids love it, When my daughter was a little girl I used to tell stories with each vegetable to make her eat all the veggies, may be that is why I think she eats all the veggies, I used to tell her that if she ate Okra she would become intelligent,  The spicy, tangy taste is so delicious you will just love it.
I know they are slimy when you cut it, no worries we have some tricks which will take out the sliminess.
Here is my favourite Recipe, whenever I see Lady's finger/Okra/Bendekaayi/vendakka, I always get tempted to make this. This really goes well with chappati or with Hot Rice with a  tsp of oil, it's absolutely delicious.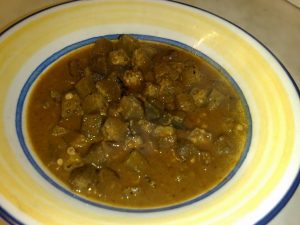 INGREDIENTS:
1/2 Kg Lady's Finger
1 Lime size Tamarind
little bit of jaggery(optional)
2 to 3 tsp of Rasam powder
1 sprig of curry leaves
salt to taste
1tbsp Rice flour
2 to 3 tbsp oil
Seasonings:
1tsp mustard seeds
1 tbsp channa dal
1tbsp urad dal
a pinch of turmeric powder

METHOD:
Soak Tamarind in a clean water for 1/2 an hour, squeeze and filter the water and keep it aside.
Wash and wipe clean Okra & cut them into 1/2'' pieces
Take a Kadai, pour oil and when it is hot, add mustard seeds once they splutter add the other seasonings and roast them for a minute until they change colour.
Now add the cut okra into the kadai and roast them in a low flame, add the curry leaves now, fry them until they are cooked and the sliminess disappears.
Add a tsp of salt when in process of cooking, the vegetable cooks faster and gets coated with salt.
Add the Tamarind extract and add another 1 or 2 glasses of water until the okra is completely immersed, so the water stands an inch above the vegetable.
Allow it to cook until the raw smell seizes from it, now add the rasam powder and allow it boil another few minutes so that the Ghaatu (spiciness) of the powder decreases
Add jaggery and salt to taste, you can add water a little more to increase or decrease the quantity of the gravy.
If the gravy doesn't thicken take a tbsp of rice flour mix little water and make it into a paste and pour it into the gravy, within minutes the gravy thickens and now it is ready to serve
Serve with hot rice and a tsp of oil or with chapatis
Note:  Okra have sliminess lot of people don't like it, but its not a big problem, we can get rid of it in different ways
1. cut the okras and leave them on a newspaper the night before you use it
2. Adding little buttermilk or Tamarind in the middle when it is cooking gets rid of the sliminess
3. Using more oil or frying in oil till crispy removes the sliminess.
OKRA/BENDEKAAYI GOJJU
Tangy, sweet and spicy gravy very delicious goes very well with Rice and Chapati
Ingredients
INGREDIENTS:

1/2

Kg

Lady's Finger

1

Lime size Tamarind

little bit of jaggery

optional

2 to 3

tsp

of Rasam powder

1

sprig of curry leaves

salt to taste

1

tbsp

Rice flour

2 to 3

tbsp

oil

Seasonings:

1

tsp

mustard seeds

1

tbsp

channa dal

1

tbsp

urad dal

a pinch of turmeric powder
Instructions
Soak Tamarind in a clean water for 1/2 an hour, squeeze and filter the water and keep it aside.

Wash and wipe clean Okra & cut them into 1/2'' pieces

Take a Kadai, pour oil and when it is hot, add mustard seeds once they splutter add the other seasonings and roast them for a minute until they change colour.

Now add the cut okra into the kadai and roast them in a low flame, add the curry leaves now, fry them until they are cooked.

Add a tsp of salt when in process of cooking the vegetable cooks faster and gets coated with salt.

Add the Tamarind extract and add another 1 or 2 glasses of water until the okra is completely immersed, so the water stands an inch above the vegetable.

Allow it to cook until the raw smell seizes from it, now add the rasam powder and allow it boil another few minutes so that the Ghaatu (spiciness) of the powder decreases

Add jaggery and salt to taste, you can add water a little more to increase or decrease the quantity of the gravy.

If the gravy doesn't thicken take a tbsp of rice flour mix little water and make it into a paste and pour it into the gravy, within minutes the gravy thickens and now it is ready to serve

Serve with hot rice and a tsp of oil or with chapatis
Notes
Adjust the spices according to your taste, My Rasam powder may be different from yours so you should use it as you like it