>This is
pacchadi
I like the most, this
pacchadi
I learnt from my sis-in-law,
padmini
, when she told me she was going to make
pacchadi
out of this, I was wondering how is it going to taste because she was going to fry them together !!, Well, needless to say it was absolutely delightful, even though I do not relish curds much, I love all
pacchadis
when we add curds to it, and that too in summer I love eating curds, may be that is the only time I think I eat lot of curds in different forms, and once the summer is gone, I hate to eat curds, so I always try to make
pacchadis
and relish eating them.  But, my second daughter & sis-in-law's daughter love eating curds anytime of the day or anytime of the year, they don't even need anything to accompany it!!, maybe that is why I think both of them don't relish eating any spicy food.
Let me come back to the recipe, it's quite simple and absolutely delightful to eat…here is the recipe…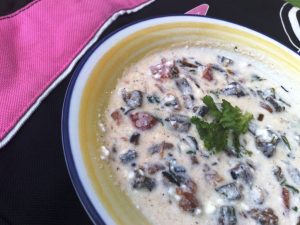 6 to 7 medium sized Okras (

Bendekaayi

)
1 medium sized Tomato
1 tbsp of oil
1 tsp mustard seeds
1 tsp

chenna

dal

1 tsp

urad

dal

1 sprig curry leaves
2 to 3 green chillies
a pinch of

asafoetida

2 sprigs of coriander leaves
salt as required
2 or 3 cups of curds
Wash & dry the okras and cut them into 1/2 or 1/4" pieces and keep aside
wash & cut tomatoes, green chillies too.
Take a wok, heat oil add green chillies +

chenna

dal

+

urad

dal

+ curry leaves and fry for few minutes 
Then add cut Okras and fry until they become crisp & cooked
Then add the cut tomatoes and fry for few minutes, they get cooked fast then add the finely cleaned & chopped coriander leaves mix well and take it out from the wok and transfer it into a vessel and allow it cool.
Once when it is completely cool add 2 or 3 cups of curds.
Garnish with coriander leaves and serve it with rice or chapatis