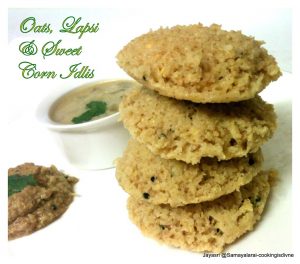 Idli is one more thing I have become a big fan of.., well who doesn't Idli.., if you are a south Idli, most hearty breakfast.., A healthy one too.., basically because it is steam cooked.., Idli, vada, sambhar and chutney is one thing you get in every resturant, darshinis, hotels in south India...
Even Doctors prescribe to eat Idlis if you are sick only minus all the other items with it...!! :).
My love for Idlis became more stronger when I moved out of comfort zone.., that is when I left India, Now the first thing I do when I land in India is.... ?, Eat Idlis and Dosa :).., Oh! I am thinking of back home.., and I envy especially my daughter envies people in India, just because she can't indulge in her favourite food...
I think I have told you I have twins, a girl and a boy :). My Girl loves Idlis and my Boy loves Dosas..., Now you know why I make so many twists..., Oh! ya how can you know because I haven't posted lot of them!..., maybe some day I will.., but still we can talk about this Idli right ?.., so let's get back to the recipe then...
The Last time when I went to london, my eyes fell on this product - Lapsi, My friend who is from North Karnataka told me I should try it out.., well, why not ?, so I picked it up.., The other day I was searching through my pantry and noticed this cover..., took it out and was musing what to do..., I don't know some smell in the kitchen made my daughter think I am making Idlis.., that was when I thought why not try these...,
So with this I started pairing things, out came the oats and of course you know my love towards sweet corn.., you must have noticed I keep using these little yellow gems most of the time in my cooking... well put together we had these Lovely Idlis with a special chutney!, I am not posting the recipe for the chutney now as I am short of time and this is my post for.. you guessed right .. for Blogging Marathon.. the last day...
Valli special thanks to you..., in believing me and I enjoyed every bit of it, made new friends.., lovely ladies...., wonderful cooking and baking around the Blogging Marathon...you must check out every blogger in this marathon.., you will surprised of what all they have created.. learnt new recipes too... so here goes my recipe...
OATS, LAPSI AND SWEET CORN IDLIS
1 Cup Oats
1 Cup Lapsi
1 Cup sweet Corn ( used frozen)
3 Cups of Yogurt
1/2 of buttermilk
2 tsp of Eno or 1 and 1/2 tsp of Baking soda
1 and 1/2 tsp salt
2 stalks of chopped coriander leaves
1 stalk of curry leaves.
1 tbsp of oil
1 tsp Mustard seeds
1 tsp Channa dal
1 tsp Urad dal
Thaw the frozen sweet corn, and grind it into a paste, then roast the rolled oats and powder them, Roast Lapsi for a few minutes and let every thing get cooled.
Then mix them all together, add salt, chopped coriander and chopped curry leaves.
Then in a small pan heat oil, add mustard seeds and dals fry them for a minute once the mustard seeds splutter and dals change colour switch of the stove, add these seasonings to the bowl of all the Dry ingredients.
Add Soda or Eno whatever you are using, Mix and combine them all well together.
Grease the Idli moulds, once everything is set ready add Yogurt and mix well, then if you find it too thick add extra buttermilk to it and make it into a consistency of Idli batter. (thicker than the pan cake batter)
Immediately pour these into the Idli moulds and steam cook them without the weight in the cooker for around 12 to 14 minutes..
Now your Idlis are ready to enjoy....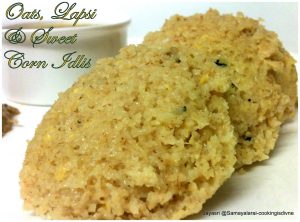 These Idlis may not be like the original Idlis still they are tasty with a nice spicy chutney...
MY VERDICT: My kiddo liked ( I can't say loved it as her favourite is the original Idlis !!), she said it was very nice..., and ate it with the sambhar I made just for her.., the other two said it was quite filling and ate with my spicy chutney...., eldest the combo was really good.., Hubby was bit inquisitive ( I have come to know now that if he asks me, what did you do with this recipe means he likes it!).., so I jumped into it and asked how was it.., he said it quite very nice actually and so the family story ends with a sigh that everybody enjoyed a good hearty, healthy breakfast.
Mum is very happy that she found an other recipe which her kids doesn't mind eating... what else do you need ?...
WISHING ALL MY READERS A VERY HAPPY UGADI...
Will wish you all once again tomorrow... c u soon with an other recipe tomorrow....take care...
Check out the Blogging Marathon page for the other Blogging Marathoners doing BM#14