dir="ltr" style="text-align: left;">
Hi everybody, Hoping you are all doing well, Its such an amazing fact, everyday I see lot of recipes being created, and still we find lot of them to be new and have never tried, I am not talking about baking, its just our everyday cooking!!, isn't it ?, we should thank Google for creating us such a lovely opportunity, which has brought the whole world together, when it comes to food, we all love to try at every opportunity to make the different cuisines from all over the world which has brought an interesting life in our kitchens, everyday I think of something I want to try differently and everyday it is an opportunity I feel I do not want to forgo!!, I try my best do something different everyday!!, That is how this recipe came into my kitchen!!, I just wanted to try something different from the same noodles which I always do, which my family enjoy it. I wanted to try this variation and it was quite a hit, even my friends liked it.
NOODLES IN ROASTED PEANUT SAUCE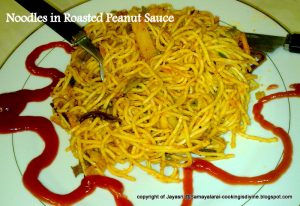 INGREDIENTS FOR THE PEANUT SAUCE:
1 Red Pepper ( I used one long Romario Pepper)
1 Fist full of roasted de skinned peanuts
3-4 Red chillies (Badgi – Guntur)
2 tbsp of Sesame seeds
1 tsp of Oil
2 pods of Garlic
1" Ginger piece
1 small onion
1 tsp of Pepper corns
1 petal of Star Anise
4 cloves
Salt to taste
INGREDIENTS FOR THE NOODLES
1 Packet of Noodles ( I used Hakka Noodles)
2 tbsp of Soya Sauce
1 + 1/2 tbsp of Vinegar
2 tbsp of Tomato Ketchup
Slit the peppers and remove the seeds, then on wire rack on the stove top roast the peppers like I have shown above, in a medium flame, remove the charred skin from them and keep aside to cool.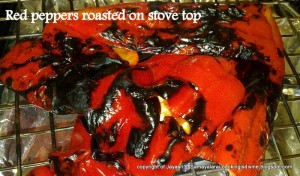 In the same wok heat a tsp of oil add a tsp of mustard seeds, once they splutter add Onions, Garlic and Ginger and saute them for a while until they become transparent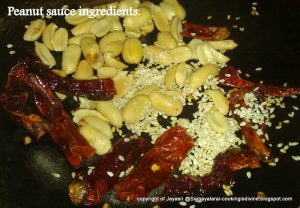 In the same wok heat a tsp of oil add a tsp of mustard seeds once they splutter, add onions, garlic and ginger and saute for few minutes until they become transparent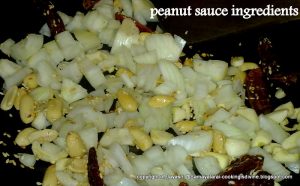 Then add 4 cloves, literally a very small piece or should I say one petal from the Star Anise, (as it gives too much a smell), which you can see in the middle!!, then the peanut and the other ingredients you fried with them together with 1 tsp of Pepper corns and saute them.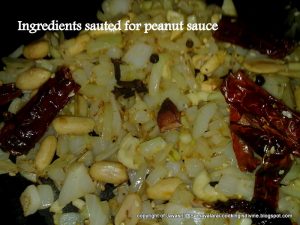 Meanwhile cook the Hakka Noodles immersed completely in water, Once the water starts becoming hot just throw away the water and refill with water completely immersed in the water again and with a tsp of oil and a tsp of salt, once they cooked softly drain them in a colander and run cold water on them, press softly and squeeze out all the water, then add a tbsp of sesame oil to them and separate the threads and keep them aside until required.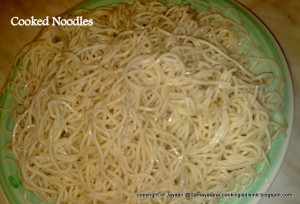 Now the Ingredients which you sauted would have cooled down take them all in a Mixie and grind them to a smooth paste, You might not be requiring all the sauce so you can take how much you require and use it in your noodles and store the left over in the fridge, Actually it was so tasty as it was, it can be used on its own for any other varities you want to create from this sauce, may be you can use it in pasta !! or you can eat it with rice etc., well, it was quite tasty.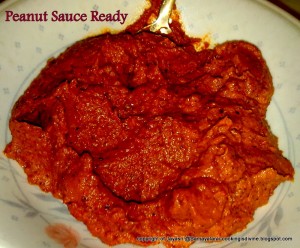 Take a wok, heat add all the veggies like carrots, bamboo shoots, Mangetouts, Baby corns, french beans, Bean sprouts etc., you can add whatever you love to add to your noodles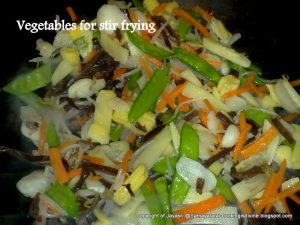 Stir fry all the veggies in a high flame for few minutes until they got cooked and add sring onions in the end and stir fry again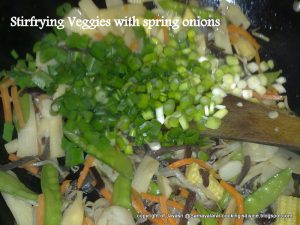 Now add 3 to 4 tbsp of the peanut sauce, as it will be quite spicy so you need to adjust to your tate buds, the spiciness it can take!!, then add
2 tbsp of Soy Sauce
2 tbsp of Vinegar
2 tbsp of Tomato Ketchup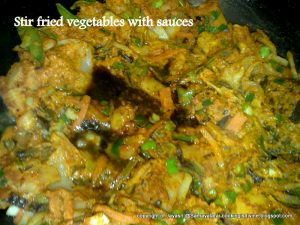 As shown above to the veggies and stir fry in a high flame for two or 3 minutes then add the noodles mix well with the prepared Stir fried veggies with the Roasted pepper Peanut Sauce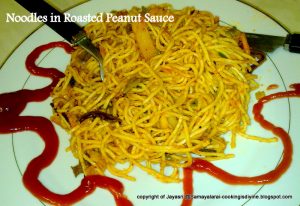 I usually do my noodles this way I keep the cooked noodles separately and sauce separately in different bowls, then take a tbsp of oil into the wok add a ladle of the veggie sauce and a handlful of noodles and roast them together and serve my family saperately, like they do in resturants, this way the sauce mixes very well with the noodles and tastes much better.
That's my daughter's plate she wanted it on the post!!, It was quite yummy everybody liked it, try it out and enjoy.