This was one Night our Dinner (?), we all enjoyed it so well!!, Thanks to this lovely Lady, I still have to try her different Unusual Named recipes!!, My clicks are super good (?), I always keep writing that my clicks super stupid!, so I thought form now on I willl think positively (God knows how long I will think like this) and post the recipes which are just piling up in my computer!.
As I said earlier not everybody gets these kind of chances to live and travel to different places and meet different people, but this lady seems to have really enjoyed this opportunity and has learnt lot of dishes with different names and most popular and a wonderful person, someday I hope to meet her, she never misses to update her status and lovely comments in my blog, I thank you lathaji! for your encouragement, advice and Of course how can I miss those lovely recipes!.
I made this Nangainallur Rasam and Tomato Pulikaachal from her blog, and this Aloo-onion Roast was my side dish to the main dish!
NANGAINALLUR RASAM, PULIKAACHAL AND POTATO-ONION ROAST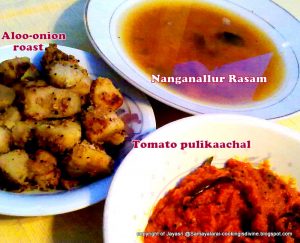 1 medium sized Tomato
1/2 cup Toor dal
2 flake Tamarind
salt to taste
1 tsp Rasam powder ( Recipe given below)
1/2 tsp turmeric powder
1 tsp Mustard seeds
1 tsp cumin seeds
1/4 tsp Black pepper and Cumin powder
1 sprig curry leaves
few coriander leaves
ghee for seasoning
2 cups Red chillies
1 cup Coriander seeds
1/5th cup Black pepper corns and cumin seeds
Roast them in a wok without oil and powder them in the mixie
I have made rasam in the usual way I make, she has used microwave in making this rasam, I used or rather use microwave only to cook the tamarind, this way I can cook rasam very quickly and need not have to wait for the tamarind to soak!, I cooked tur dal and tomatoes with turmeric and water (1 to 1 1/2 cup)in a pressure cooker until they are soft (3 whistles) and mashed them.
Take a vessel, extract Tamarind juice from the tamarind and allow it boil with another 1/2 cup of water ( I asked you to add an extra 1/2 cup of water as I usually soak tamarind in just 3/4th cup or sometimes 1/2 cup of water), once it starts boiling and the raw smell disappears ( keep an eye when it is boiling and add litle bit more water if needed and see to it that the vessel doesn't get discoloured) add the mashed cooked dal and boil it again with Rasam powder and allow it to boil for few more minutes in the end add pepper powder, cumin powder then temper mustard seeds and cumin seeds, add them to the rasam with finely chopped coriander and curry leaves and a bit of asafoetida give 2 more minutes to boil then immediately switch of the gas and close the lid, this keeps the aromatic goodness of the rasam!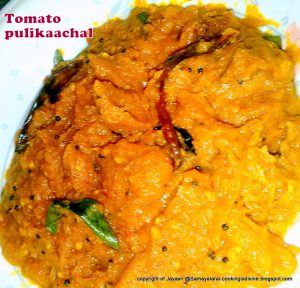 250gms Firm ripe Tomatoes
1 tbsp Tamarind paste
6 Red chillies
6 Green chillies
5 tbsp Sesame oil
Salt to taste
1/2 tsp Mustard seeds
curry leaves a sprig
few cilantro (coriander leaves)
1/2 tsp Turmeric
A pinch of Asafoetida
Take Tomatoes in a vessel and pour water until they are drowned and start boiling it, Let the water boil until all the Tomatoes get cooked and skin starts peeling off, Now drain the Tomatoes but do not throw away the water reserve it.
Allow the Tomatoes to cool and then peel away the skin and puree them. Add salt, tamarind pulp and resereve water.
Put oil in a wok and once it is hot add mustard seeds, after they splutter add asafoetida and turmeric break red and green chillies put them in the pan and saute for a minute
Then add the pureed tomato and bring it to boil, lower the fire to medium and simmer for 20 minutes until oil separates out, Garnish with curry leaves and coriander leaves.
I tweaked the recipe a little bit:
I did not throw away the peel, I grinded them completely with red chilles (I used Badgi chillies which gives colour and a little bit of spiciness too), and again added 2 bits of red chillies (Guntur). Above I have given the exact recipe of hers, the spiciness you can change to your liking and of course the chillies we use!, I had a little bit more Tomatoes than the weight indicated in the recipe and so I used other ingredients a little bit more or less according to the taste, the other thing I changed in this reicpe was I fried
1/2 tsp of Fenugreek seeds (Menthya) and 1 tbsp of Coriander seeds
without oil and ground them into a powder, as it was not completely fine powder I put tomatoes and chillies in the same mixie and made them into a fine puree, I soaked tamarind in the drained water, so I did not use any extra water, as I wanted to use less water, Once the mustard crackled I added the Tomato puree and then the curry leaves, I never add curry leaves and asafoetida directly into the oil as I feel the curry leaves even though gives a lovely smell, might loose its value and I do not know why but my ayurvedic doctor long back asked me not to put asafoetida into the oil!, so I just blindly follow his instructions!, I always add it at the end. These were the little changes I made.
It was quite a lot I had made thinking it will stay for a day or two, but the next day when I was searching for it , I couldn't find the bowl, dear H had taken all of them in his dabba!!
So I don't have to say anything about how it tasted right? :))
1/2 Kg Small Potatoes
2 sprig curry leaves
Salt as required
4 to 5 tbsp of oil If you want you can add more oil
1 tbsp of Chenna Dal
1 tbsp of Urad Dal
1 tsp Mustard seeds
2 Green chillies (optional)
1 Onion medium
4 to 5 Red chillies
2 thin sliced brown breads (powdered in a mixie)
1/2 tsp turmeric powder
Pressure cook the potatoes, and when cool peel the skin of and keep them aside if they are little larger you can cut them into small cubes, Meanwhile Grind all the ingredients given under Grind to a fine paste, then add this ground mixture with salt and curry leaves to the peeled potatoes, mix well and leave it for 1/2 an hour or so to marinate.
Once it is marinated, Take a wok heat oil and add mustard seeds once it crackles add channa dal and urad dal, once it changes colour add little more turmeric and then the marinated potatoes, mix well and cook in a medium flame until well roasted and gives a brownish and golden colour.
Serve it hot with rice and rasam!