Hi everybody, How have you all been doing ? Me, Oh! no don't ask :)), Hoping to get alright soon, so why am I sitting and posting a recipe you wonder don't you ? well, don't as this was in my draft from a Long time, as it is Tuesday today and I don't like to miss Priya and aipi's Bookmarked recipes event and of course Hearth and soul I just thought I will pin a few words and post the already keyed in recipe :)).
I got this recipe from a book called Malaysian food, I had written in my little (rather big) book, thank god! for that, half the time I don't even know where I have written them.
Let me not go into that right now, I love these Asian delights with different spices and pastes and try out these different Ingredients.
When I discovered this
supermarket
was selling Thai Spices I was quite thrilled, Now I always pick up a pack to make my own paste, somethings which I don't get I use dried Ingredients.
Coming to the recipe Nana means Pineapple and Lemak means cream (here it is coconut cream). Actually it turned so well, and my family and friends who visited me also liked the different taste given to pineapple, you must try out and tell me, if you like it too.
I love Pineapple this is favourite fruit, I love juice, cake, Gojju, Rasam etc.., I haven't posted my Gojju and cake recipes still I will try to do it soon.
NANAS LEMAK (PINEAPPLE IN COCONUT CREAM)



INGREDIENTS:
1 Small pineapple (around 2 cups of chopped Pineapple pieces)
2 tbsp of Oil
1 and 1/2 cup of Coconut milk (I used ready Creamed coconut tin)
2 cups of water
INGREDIENTS:
2 Red chillies
4 Green chillies
2 Lemon grass
6 to 7 Small Onions (or shallots if using may be 3 would be enough)
1/2 tsp Turmeric powder
1'' Galangal
1 tbsp of Kaffir lime powder
2 cloves of Garlic
METHOD:
Make a smooth paste of all the Ingredients under Spice to paste.
In a bowl cook chopped pineapple in enough water until soft.
Take a large wok, heat 2 to 3 tbsp of oil, add the smooth paste and fry for few minutes in a medium flame until the oil oozes out (I really did not do it till that, I am so impatient short of time, but did fry it for few minutes until I felt a lot of water content is draining out).
Now add the cooked pineapple pieces with the water (adjust water to make it a gravy) to the cooking gravy mix well add salt and allow it to boil, until all the raw smell disappears.
Now add the coconut milk, mix well and give it an other go for few minutes, in a low flame, stir in now and then, add required quantity of salt.
Mix well and put off the stove. make it into a Gravy consistency.
I garnished with coriander leaves, I do not know if they use coriander leaves.
I made chappatis to go with it and everybody loved it.
NOTES: Galangal looks more like Ginger, remove the skin. Slit open the first skin of the Lemon Grass and use the tender stem of that. I did not have Kaffir Lime Leaves so used the Dried ones.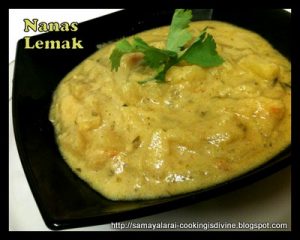 This Pineapple curry goes to Aipi and Priya's Bookmarked Recipes and Hearth and soul too.,...