Hi friends this is no food post!!, I just wanted to dedicate this post to My Grandmother (Mom's mom), who passed away yesterday half past after midnight, she was 105!!, believe it or not, she was a woman of strong qualities!!, very stubborn to her thoughts!!, she was perfect with her vision, hearing and a very good memory power and would remember everything that crossed her mind, because of the age and her very limited food intake she became quite fragile.
May the God give her peace and happiness at his feet!! with lots of love and tears this is my humble tribute to her.
I would also like to thank my aunt and her daughter who took so much care and attention until she died as she has been living with them from around 35 years now!!, My Aunt had a very hard time to look after her mom as she herself was not keeping very well.
My Grandmother as I remember wouldn't eat some vegetables and would call them english vegetables!!, I think it must have come during the period when British rules India!!, it is so funny when I think of those days!!, she was very strict with her diet, she always stayed slim and smart!!, This was the photo I took in my mobile when I visited her last time, she had fallen and had hurt herself, and was recovering.
I just don't seem to think straight now, and I couldn't write any more!!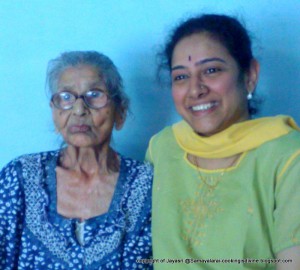 Love you Grandma!!, for the love you showered upon us, and all the care you took to help our parents to bring us up, We sure going to miss you, but I know that you are very happy up there in his abode than here.
My tearful tribute to you!!, and when I think about this!! I know I am sure going to miss seeing in my next visit!!, when I writing this, I now feel that reality !!….
Love you, Love you, I am gonna miss you…….