MUSTARD LEAVES WITH PANEER AND PEPPERS SUBZI (GRAVY)
Every time I think of making chapatis I think of making something different subzi to accompany with it. After coming here my creations have lost its limitations, everyday I want to cook something different, try to change the old recipes or try to Google through and see if I can find something different to cook, Thank to God! I have a lovely family and friend who always inspire in my crazy to cook!!.
Today my son had downloaded the film I wanted to watch ardently and very eagerly after going through lot of bloggers talking about it, as I not cinema going person, with my headache problems if I need to watch anything I stick to my Idiot box or computer!!
Hubby usually get some movies from shops are watch something online when ever I have time, After coming here my first movie I went was ''2012'', mm.., not very exiting it was!!, It was more like a sci-fi, well, coming back to the movie I watched today was ''Julie & Julia'', Oh! yes, I liked it so much, because I love cooking , and trying out new recipes and the most impressing character was Julie, who is so inspired by Julia child, and I was telling my kids yes, I think from today I am going to post one recipe each day, and one more thing that I was so impressed was Julia child's love for food, how very interesting to see her enjoy the food she is offered or prepared, then I remembered my sister's MIL say 'A person who loves his food and enjoys it with utmost interest and ardently loves it, will be a very good cook' how very true ? sometimes I have wondered whenever I remember that I am really not that way!!,
Oh! my God! I really wrote a big write up about this, let me come back to this recipe, this recipe I escpecially made to post to yasmeen's blog, where she is hosting this bitter better recipes!!, Like it or not I love anything bitter my favourite veggie is bitter gourd, fenugreek leaves.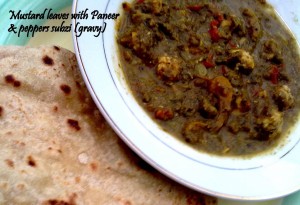 INGREDIENTS:
2 Bunches of Mustard Green Leaves (Sarson)
150 gms shop bought paneer cubes
1 big yellow pepper
1 big Red pepper
3 to 4 tbsp of oil
salt as required
MASALA TO THE GRAVY GROUND INTO PASTE
1 tsp of Chana dal
1 tsp of urad dal
1/2 tbsp of Coriander seeds
1/2 tsp Cumin seeds
5 Red chillies
1 medium sized onion
2 Large Tomatoes
4 to 5 cloves of garlic
1'' ginger
2 to 3 flakes of tamarind
5 to 6 sprigs of coriander leaves
METHOD:
Wash mustard leaves and chop them and cook them in enough water, drain the water into a bowl do not throw away the water, keep it for future use, allow it cool and grind them into a paste.
Chop the peppers and allow the frozen paneer to come into room temperature.
Take a wok then wash the skin of vegetables, fry or kind of cook it with water, with a lid on until they kind of change colour slightly and the water completely drains out, keep it aside.
Take a wok add a tsp of oil then fry all the ingredients in the Masala to the gravy category fry each one of them until the dals change colour and onion becomes translucent and even the tamarind flakes too, to be roasted, Grind all these into a smooth paste.
Heat around 3 to 4 tbsp of oil in a kadai, add mustard seeds when they splutter add the chopped peppers and saute it until it is cooked 1/2 way then add the mashed mustard leaves with the water kept aside.
Add the ground paste to the above mustard leaves gravy, mix well, and allow it boil with enough water and required quantity of salt.
Meanwhile when it is boiling take another wok, with a tsp of oil and fry the paneer cubes till it is slightly golden in colour add paneer cubes immediately to the boiling gravy
Once the gravy starts boiling add the sauted paneer cubes, keep an eye the gravy starts thickening mix well, give it few more minutes stirring now and then so it doen't get stuck to the bottom.
The gravy is ready to serve now with side of your choice, pulkas, rotis, puris, rice...
NOTE: Just remember that the chillies I use are different from yours, so you must know how good is yours, I mean how spicy is yours and add it as required, because one or two of my friends said, the spicyness was less, I had to tell them that chillies differ, so you are the best judge on how to use them, and you might need a little variation in every recipe where masalas are concerned. Please adjust masalas to your taste.
My verdict: you must be wondering why I am writing a verdict to my own recipe, actually yasmeen has asked the participants to tell how we bar the bitter taste when we are doing our bitter dishes, I think using tamarind in a bitter veggie/greens recipe neutralizes the bitterness of the vegetables, you can use Tamarind, Amchur powder, Lemon/Lime juice etc., and adding sugar, jaggery helps too...
Googling in the net I found some of this information about these Mustard Greens have the three antioxidants Vitamin A, E and C, They say that they are beneficial for heart, cancer, arthritis, asthma and to even menopause problems. They are also rich in Magnesium, vtiamin B6, excellent source of Calcium.
It also said that people having very high kidney and gall bladder related problems should try to avoid this as mustard greens contain very small amounts of oxalate, when oxalate becomes too concentrated in body fluids they crystalize and cause health problems. I am not a authority on these, I thought I will just share this with you. check out with doctors and professionals on health care issues and on your diet.