Hi friends,
Hope you are all doing well, I am in a mission to post at least one recipe even though I have made a few of them for events and it has become so difficult with posting recipes as is not my fault you see, it's all you people ( I mean the bloggers) who keep posting and updating their blogs and I start Oogling and googling around and forget what I sat for !. I made this in two different ways but now I make only this way which I have posted, I also have posted the other method in the end, My kids love this as they feel they are not able to taste the mushroom so much now........... :))
Quick no time to waste hope she accepts my entry.....
MUSHROOM PARATHAS/CHAPATIS/PULKAS..... ?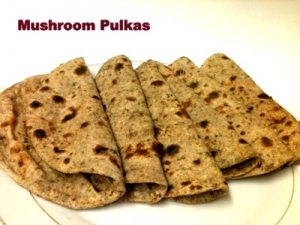 INGREDIENTS:
250 gms Chestnut Mushrooms
4 to 5 Cups of Wheat Flour
1 tsp chilli powder
1 tsp of Coriander powder
1 tsp of Cumin powder
1 tsp of Garam Masala powder
1 and 1/2 tbsp of Thymol seeds
1 tsp of Turmeric powder
1/4 cup milk
7 to 8 sprigs of chopped Coriander leaves
Salt as Required
Water as Required
Oil to make chapatis
METHOD:
Clean the mushrooms in water, take out the stalk, chop them and saute them in a tsp of oil for a few minutes within minutes it becomes very soft, when it cools down make a puree of this with 1/4 cup milk and set aside.
Take a big bowl, add the flour, make a hole in the centre pour the pureed mushrooms, then add all the other Ingredients said above except oil with required quantity of salt and mix well, then start adding water, I have not mentioned the exact amount of salt and water as it depends on the Atta used by us. So check out how much you need water and make it into a soft chapati dough cover and leave it for 1/2 and hour, Knead well and start making me chapatis.
So, why a question mark if it is Chapatis, I wrote a question mark, few of them I made chapatis (making a triangle fold and cooking it on the tawa),
Then some of them I made into pulkas with out making a triangle and making it into a simple round, and it wonderfully puffed up nicely like a poori ! I couldn't believe it !, so good for me no oil and I made 4 and ate them!,
As I had stuffed it with Mushrooms So , I thought I should call it paratas ! ?, I really don't know Anyways we enjoyed it and you too try it out and enjoy..
VERDICT: I had made this in a different way a few months back, kids did not enjoy that method, so I am stuck with the above one.. That other method is ......
Just slice the Mushrooms into thin slices and mix it with the other Ingredients as said above except I just added 2 tbsp of milk to the flour and made chapatis, Kids made a face as they could chew on the mushrooms and they were not for it, If you like Mushrooms you can make this way...
I want to send this to Joy of cooking's Complete my thali event started by Jagruti and hosted by torviewtoronto who wants some flat bread to complete one part of the thali hope she accepts my last minute entry.