One day I was so busy, and had no time to do much, I got up late and kids still in bed, I had to do something before they got up, so when I stood in the kitchen, I decided I will make pesarattu which was the quickest Dosa I can muster, I don't fancy these quick dosas or Didir dosas, with flours added to them.
Moongdal dosa comes in handy I just soak Moong dal with rice and quick within 2 to 3 hours is enough for them to soak and in a jiff I can grind and spread the dosa on tawa with just a click with some nice Tomato Gojju and it is just gorgeous to gobble up and as you all know it is a very healthy diet, Mum said when you are not very good in your health, this is the good food as it is not hard on the stomach.
Museli as you all know is made of oats and it is been said that it helps in reducing BP too!!, 25 gms of Branflakes if consumed everyday supplies all the nutrients necessary for you RDA supplement so say the experts!!
MUSELI-BRAN FLAKES DOSA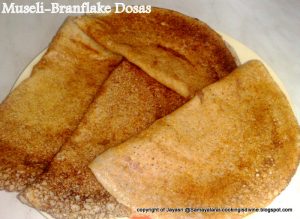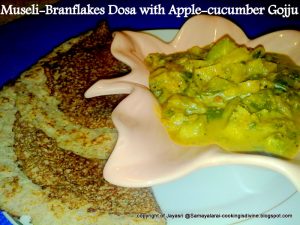 1 Cup Museli
1 Cup Bran Flakes
3 Cups Rice
1 tbsp of Fenugreek Seeds
2 tbsp of Chenna dal
2 tbsp of urad dal
1/2 cup of Urad dal
Just wash and soak Rice, dals and fenugreek seeds together say around 6 O'clock or a little earlier on, than that time, by 9 O' clock it is ready to be Grinded and you can just make the dosas immediately.
Soak Bran flakes and Muslei in a different vessel just enough water so they soak, well, they keep absorbing water, add a little more water, say around 4 cups of water would be enough. check out, that they are completely soaked. They become quite soggy (like mav, I mean powder).
Once all the ingredients are all completely soaked around 3 hours you can put them all into the grinder just as you grind the dosas by draining water from the soaked rice, but as you can see you cannot remove water from the soaked Branflakes and museli, just fold them into the grinder, Once when Rice is ground halfway through then add the B and M and grind them all well together and it is now ready to go on tawa
Believe it or not you can spread them as thin as possible!!
You can even add 1/2 cup of Rice flour mixed with water and made it into paste in the end. This will give crispiness to the Dosas.
The Dosas might be little darker in colour, may be because of the Bran flakes.
The house smells like you are making Sweet Adai, but doesn't taste sweet, only if the dried grapes has escaped when grinding!! :)).
We all loved it and I served with Apple-cucumber Gojju, Recipe follows!!
The best shot was nobody knew I made something like this!!, R has gone and told my friend, God only knows what she cooks next!!, She already knew about my Dosa, actually when I try something unusual I always call her and tell her how I made it and how was it recieved, and then she gives it a try and tells me how it got sold out at home!! haha.., we really enjoy it!!, she called me up and said, that R was telling about the Dosas and that he liked it, I had a hearty laugh, now a days he asks me what have you put in it!!.
Give it a go you will like it too!!, I wouldn't say you will love it, as everybody's likings definitely vary, I could put it like this, There is an other Dosa recipe, which is very healthy, try it out right ?