hi, I wanted to try my hand on baking breads, twice I baked potato buns, I want to post them but, I am still not able to do it, for one thing I did not feel the taste of those from the bakeries I used to eat in Bangalore, Anyway, I thought let me first try with this flour and then Bake white bread, So, I bought this
Allinson Seed & Grain Bread Flour,
when I bought it I had only one thought that multi grain is good for health this flour contains barley flakes, wheat, kibbled rye, sunflower seeds, linseed and millet in it and is good for my children.  After when I was in the process of making it I started getting a doubt will my children eat it ?, anyway I was already half way through I couldn't do much, could I ? so, I continued my process and baked this multi grain bread, and believe it or not, it really came out well, and my children just loved it and and finished that day itself and left 4 slices and finished it the next day,  Oh! thank God, I thought it turned out well.  I used the method which was given in the back of the cover and just tried for 650g (7oz) did not want to use the whole 1 kg of it, in case if it did not turn out well !!, I also did strawberry Jam and that too was quite good.
This is the recipe just behind Allinson packet which I  just followed as in the packet.  But I did hand baking, following the instructions on the packet.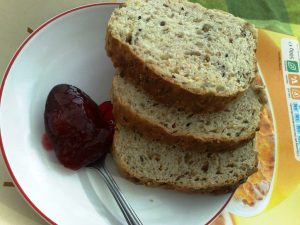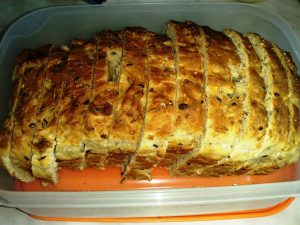 650g Allison seed & grains Bread Flour
10g (2 tsp) salt
5 g (1tsp sugar)
15 g (1/2 oz ) Butter or 15ml (1tbsp) Vegetable oil
7g Sachet Easy Bake Yeast
400ml (14 fl oz) Warm water (1 part boiling, 2 parts cold)
Preheat over to 230 degree centigrade (450 deg F/Gas Mark 8)
In a warm bowl mix flour, salt, sugar and stir in yeast.  Rub in butter or vegetable oil.
Add warm water and mix to form a soft dough then knead for 10 minutes on a warm floured surface.
If making loaves divide evenly between two warmed and greased 450g (1lb) tins.
Cover and leave to rise in a warm place for about 3o minutes or until dough has doubled in size.
Place in the centre of the preheated oven at 230 deg/450 deg F/Gas mark 8, Bake for 30 to 35 minutes 
Remove from oven and cool on a wire rack.
some more pictures of my bread 🙂
It was quite soft and delicious, Actually my kids loved it, 3/4 of them  just disappeared within few minutes and the rest next day!  Isn't it Great.