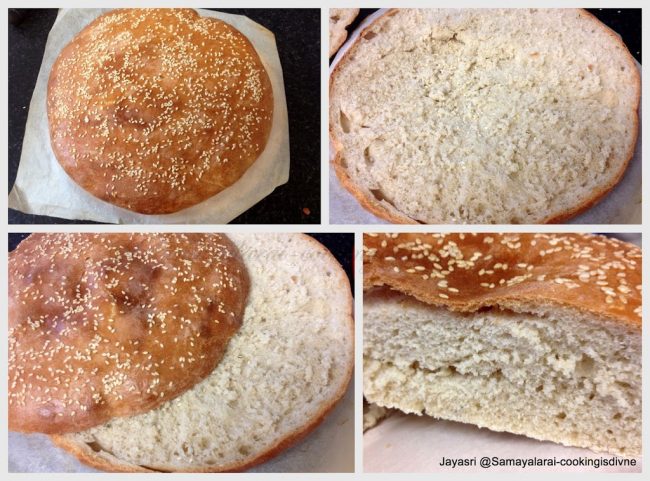 Bread and Sandwiches have become a common thing at home, as my kids prefer to take Sandwiches to school, sometimes with veggies and sometimes Jam and even sometimes with dry curries or sometimes with Indian sandwich.  While Googling through for Sandwiches I went through my Book marked recipes, I found this recipe which I had book marked, as I love Baking Bread, I had fallen for this recipe as this would satisfy my kids for sure and me too.
I had Book marked this recipe from Nola Cuisine long back, because my kids were not a big fan of Olives I kept postponing this, and as I have loads of BM's it was quite forgotten, when I was going through the BM's if I noticed this one!, I always check my Book marked recipes before trying any thing new.  Now my kids now adding them now and then in pizza and other recipes.  They don't mind eating it,  Now they like topping olives always in their pizzas and like to eat them just as it is, I love Olives too.., this recipe has loads of olives and with some spiciness, my kids would love it, As this recipe is usually made with meat, I adapted it to Vegetarian version, he suggests loads of things so I just used what I liked.
I have never been to New Orleans and never tasted this bread sandwich, so If anybody has any kind of doubts do click on the links below and ask Nola. Here is only my version of the filling which is vegetarian hope you all like and try it 🙂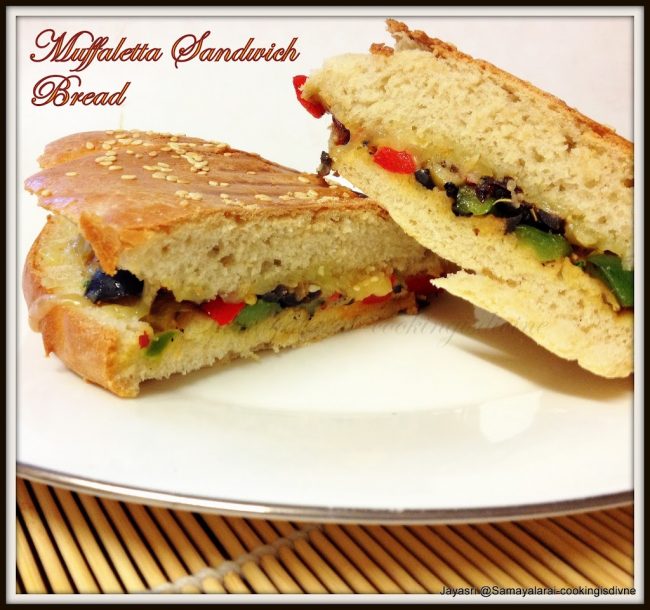 You must be wondering about today's recipe and why all this introduction : Yup, Today is the day for the Crazy Cooking Challenge, She Challenged us to bake Grilled Cheese Sandwich, As per the rules we have to adapt a recipe from an other blog, I Chose this Blog of Nola Cuisine and would love to thank both Tina Messick - Hudgens and Nola for this wonderful recipe, which I wouldn't have tried other wise so soon.., Thanks to both of you...
Basically this recipe is adapted from New Orleans Central Grocery according to Nola Cuisine  :
No trip to New Orleans is complete for me without a trip to Central Grocery for a Muffuletta. Detractors can fill the comments section with why they dislike the Central Grocery Muffuletta and why their favorite is so much better, have at it, but for my money Central Grocery does everything right with the sandwich that is said to have been created here by Salvatore Lupo.
Salvatore Lupo, a Sicilian immigrant opened the store in 1906 and operated it until 1946 when he retired and passed the reins to his son-in law Salvatore Tusa. The Muffuletta is said to have been invented early on to feed the Sicilian and Italian truck drivers who were driving produce, etc. to The French Market. The store is still in the family and has changed little over the years, with the exception of increased tourist traffic. Salvatore Lupo's daughter, Marie Lupo Tusa released a cookbook in 1980 called Marie's Melting Pot
.Central Grocery is an old style Italian market, with Italian imports, pasta, olive oil, meats, cheeses as well as local New Orleans Creole items.
NEW ORLEANS  MUFFULETTA  SANDWICH  GRILLED BREAD
(Pronouced as : moof-fuh-Leht-tuh or moo-foo-le-ta)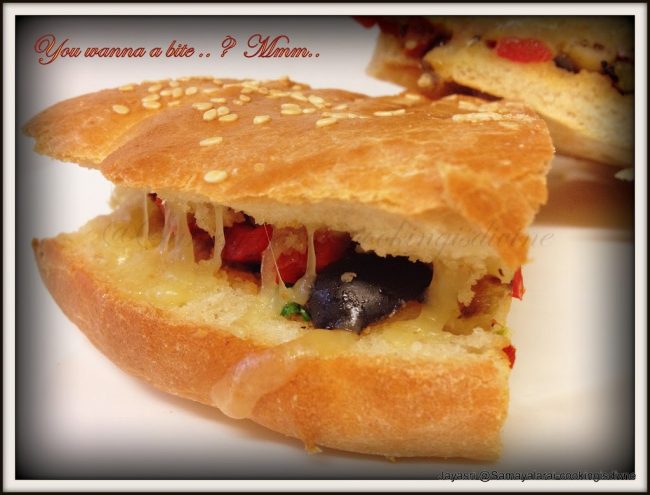 (Makes one big loaf of 10'')
INGREDIENTS:
2 Cups All Purpose Flour (I used 310 grms)
1 Cup Bread Flour White ( I used 165 grms)
1 Cup Luke warm water
1 tbsp Sugar
1/2tbsp + 1 tsp Active Dry yeast ( Original recipe calls for 1 tbsp )
1 and 1/2 tsp Salt
2 tbsp Vegetable Shortening
1 and 1/2 tbsp Sesame seeds
3 tbsp Olive Oil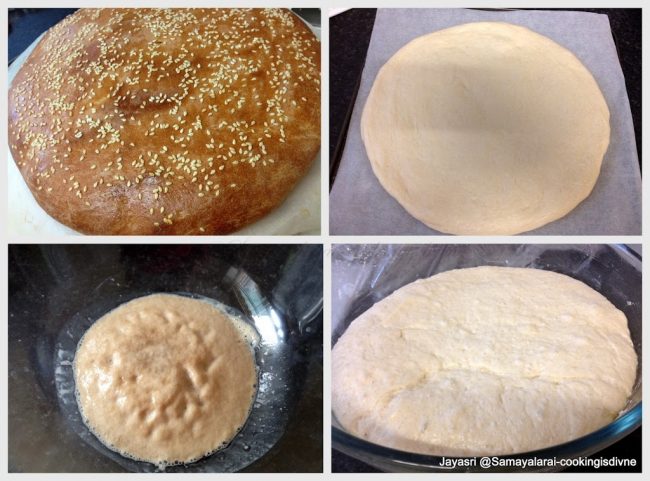 METHOD
In a Large Bowl, add yeast and sugar, with 2 to 3 tbsp of water (luke warm water), No hot water as it will kill the yeast and leave it in a warm place for 5 to 10 minutes.  I always do this to check if the yeast is still active.
The yeast starts bubbling up, so now you know yeast is ready, to this add rest of the Ingredients said above, Except water and Olive oil.
Mix everything very well until they combine, Now start adding water and bring it to a ball, if it is a little bit sticky not to worry, Dip your hands in the flour and start kneading the dough
I just dipped twice, the dough comes out very well, knead for 10 minutes that would be enough.
Pour the 3 tbsp of Olive oil coating the dough. cover it with a cling film and leave it for 1 and 1/2 to 2 hours depending upon the temperature you live or until the dough is doubled.
Preheat the oven to Gas Mark 1 with a bowl of water underneath, and sprinkle some water on the pizza stone.
Remove the cling film, Punch the dough and bring them all together, might be a bit oily mix them handling it softly then take a Baking sheet and put a parchment paper on top of it, spread this dough around 10'' in diameter and sprinkle sesame seeds on top of it, again cover it with a cling film.
Leave it for 1/2 to 1 hour it will raise again, take out the cling film, Brush it with milk.
Increase the oven temperature to 425 degree F/ 220 degree Celsius / Gas Mark 7 Slide the Baking parchment on to the pizza stone and bake for 10 minutes.
Then turn down the oven temperature to 375 degree F/ Gas Mark 5 / 190 degree Celsius then bake for 20 more minutes.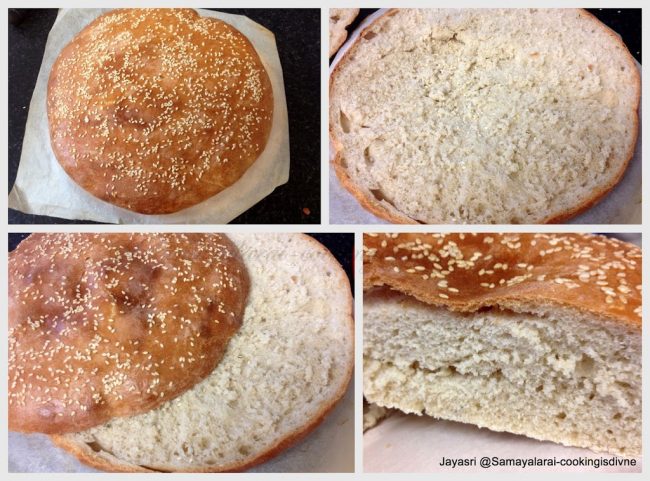 Switch off the stove and take out the bread, leave it on a cooling rack until it completely cools down then cut in half place the filling and sandwich Grill it, cutting them into 4 pieces and Enjoy....
FOR THE FILLING :
OLIVE SALAD FILLING :
Check out Nola cuisine Blog for the Olive salad, I have changed it by making it vegetarian and few changes with the salad too.., to suit our taste. This recipe can be used for 2 Loaves of bread...here you go with the recipe...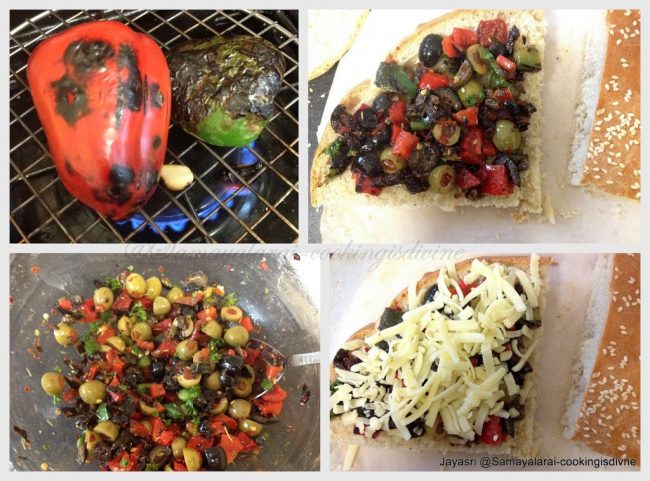 1 Cup Green Olives with pimento stuffed
1 Cup Calamatta Olives pitted
3 fresh Garlic Cloves
3 tbsp of Fresh parsley
1 tbsp of Italian Dried Herbs
1 tbsp of fresh Oregano
1tsp Red Pepper flakes ( I used Chilli flakes)
1/2 Roasted Green  Bell Pepper ( green Capsicum)
1 Roasted Red Bell Pepper ( Red Capsicum)
3 tbsp of Red Jalapenos
1/2 tsp Salt
1 tsp Pepper
2 to 3 tbsp of Olive Oil
FOR GARNISHING:
1 Red onion
Cheese ( as much as you want !!)
METHOD:
On a stove top place the oiled peppers and garlic and roast it till it gets blackened ( not completely), then take it out and leave it until needed
Then chop the Olives in half, Parsley and Oregano chopped, add dried herbs, chilli flakes, salt, pepper and olive oil.
Now cut the red pepper in half remove the top and you will bit of water in them discard the water, then chop both the peppers
Crush the Roasted Garlic in a pestle and mortar .
Add all this to the salad mix well and leave it for at 3 to 4 hours or you can leave it overnight which helps in developing the flavour very well.
ASSEMBLING THE SANDWICH :


Cut the bread half, then again slice the bread into 4 parts, arrange the Olive salad on the bread, Sprinkle cheese as you wish sandwich the bread, Place it on a Grill / Panini for few minutes, until the cheese melts.


Remove it and serve it on a plate and see your family devouring it, with a big smile and asking you to make it again and again :))
MY VERDICT: I just couldn't go without saying anything about this, as the Bread was a foolproof recipe, the Olive Salad was so delicious, I had it going for next two days and they have asked me to make it again and again.  The smell of this sandwich is so delicious, you can't keep your hands of it... Enjoy making this if you ever made this seeing in my blog, do tell me about it and definitely write to Nola cuisine how much you liked as you need to give credit to the Original Recipe maker right ?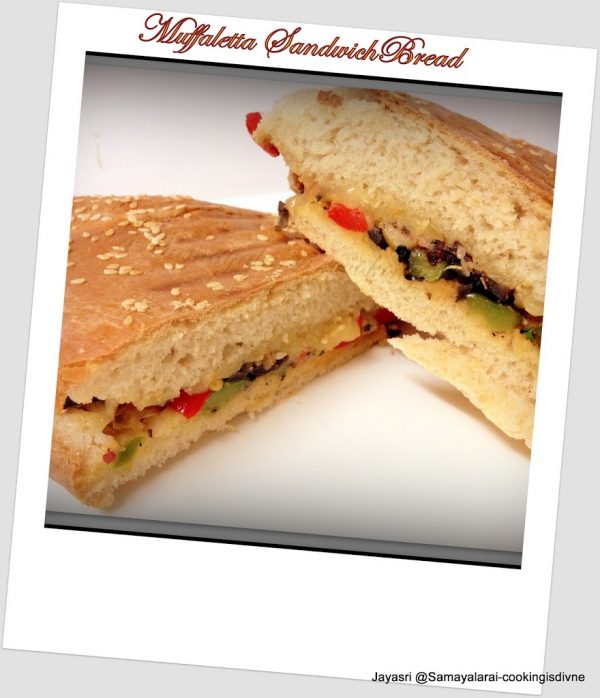 Check out here for all my other fellow Bloggers who enjoyed this challenge just like me.. and vote for me if you like my sandwich...  This recipe is yeast spotted too....