Ooo that sounds nice, I bake lot of Banana cakes in different varities and all of them are mostly eggless, as it has already got banana in it I don't need to add an Egg most of the time.
This is the second time I baked this cake, the minute I saw this cake
here
, I wanted to try it out and the first time I made it I just omitted the egg, My eldest loves these Banana loafs, cakes, muffins etc., as I make it rich, which she can nibble on!, (secret – nothing big!), I will post them soon, but this one was very good and she loved it, thanks to both
Nags
and
Belinda Jeffery
.
You want to know what happened, I baked it on a weekend, went out and came back to see a very little piece left, you know who ate it, my twins!, My eldest was with me, she had a bit before we went out, as she was so upset :(, told her I will make it again.
If you want it Eggless just forget to add the Egg :))
You must read the write up by Nags to read about the lovely book and this lovely recipe…
MOST FABULOUS BANANA CAKE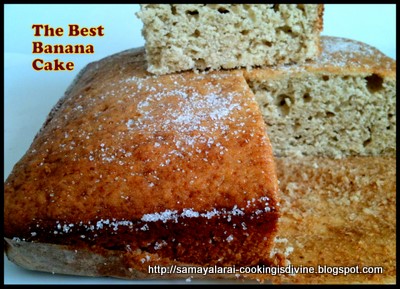 INGREDIENTS:
3/4th Cup Plain Flour
1.5 tsp Baking powder
1/2 tsp Salt 1/4 tsp Baking Soda
1 very ripe Banana (3/4th Cup Mashed)
3/4th Cup sugar
1 Egg
1/4 Cup Butter room temperature
50 ml sour cream or Buttermilk (I used Buttermilk)
1 tsp Vanilla extract
METHOD: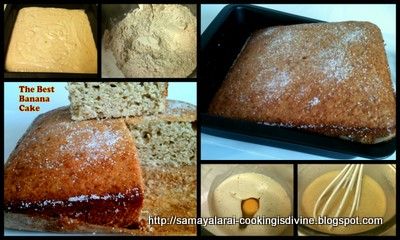 Preheat oven to 180 degree, Gas Mark 4
I made it by hand she used her food processor, Check out how she has done it.
How I made it..
I pureed my bananas in my mixie to a puree (I used 2 small Bananas I had 1 cup so, I used it completely, didn't know what to do with it!)
In a large bowl, I put my Banana Puree, Buttermilk, butter, Sugar and Egg and whisked it well enough that they all got throughly combined and to this I added Baking powder,Baking soda, salt and vanilla extract, mixed well together again.
I had sifted the flour before I started off, I added the flour into it in parts and incorporated it completely into my liquidy mixture, Poured it into a tin lined with Baking sheet and baked it for 35 to 40 minutes, until the skewer came out clean, I had baked it in a smaller tin, It doesn't look anything like hers, but tasted great.
That's it, said and done, did you like it, go make it then and enjoy.
Thanks very much, try more recipes and post it, we will enjoy the visual treat from yours and enjoy making it in our kitchens :)).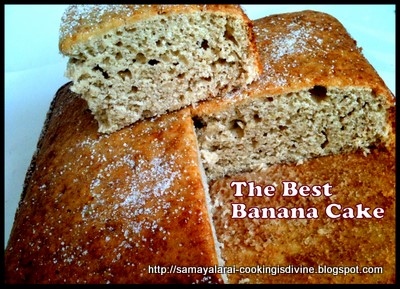 c u soon with an other recipe from hers to mine :))