This is one of my favourite breakfast recipe after my Moong dal dosa, I have a love towards this dal too much I should and definitely I use this at least once in a week, Our ancestors say that Moong Dal cools the body, This Dal is very rich in proteins, that is why this Dal is usually paired with Pepper.
As Pepper is not just hot to your tounge but also gives your body heat, that is why pepper or any kind of spices should be used in minimum quantities.
Moong Dal paired with pepper balances both the properties of these two Ingredients. I love cooking these two together from rasams to sambhars, fried, breakfast recipes and used in many more ways.
These days I use husked yellow green gram dal for its goodness, before that I used to use Yellow split Dal or Moong dal to make these Idlis or Dosa, But I love Dosa very much than Idlis, my girl loves Idlis. Here is how I make it..
MOONG DAL IDLIS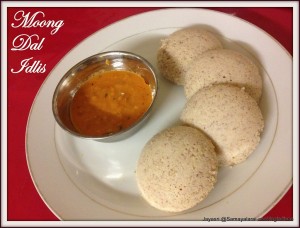 INGREDIENTS:
3 and 1/2 Red Rice ( Kaikuttu Rice ) or white Idli Rice / Sona Masoori Rice
1 Cup Moong Dal
1 Cup Urad Dal
1/2 Cup Cooked Rice
1 tsp Fenugreek seeds
1/2 tbsp Whole Pepper
1 tsp Salt
1/4 to 1/2 cup water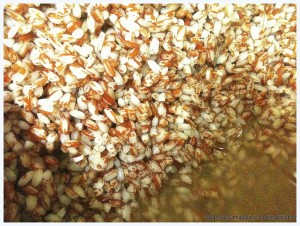 METHOD:
Soak separately Red Rice or White Idli Rice in enough water, Urad Dal in an other bowl, Moong Dal in an other bowl for at least 5 to 6 hours.
Grind Rice, cooked Rice, fenugreek seeds and Moong dal together, If you have a grinder like mine a small one, it is better to grind each of them separately which is a better option. Grind Rice, fenugreek seeds and cooked rice together.This way you can grind Moong dal a bit coarsely. At the end you can add pepper into the grinder or you can coarsely grind pepper then add it to the batter.
Grind Urad dal very well to a very smooth consistency.
Do not add too much water while you are grinding for Idli batter, use around 1 and 1/4 cup of water that would be more than enough.
Mix together all the batters with salt and leave it to ferment overnight or around 7 to 8 hours.
Once the batter is fermented grease the Idli moulds and make Idlis as you always do, steam Idlis around 12 to 13 minutes, do not steam more than that, Idlis become hard.
Updated on 12th : I had missed two things when I typed yesterday so I have updated it today :), sorry for this.
I served with Tomato and Ridge gourd chutney, a microwaved version, will post it soon.
sending this to Magic Mingle #7 of Kalyani's - Moong dal and Pepper..