Call them cutlets or Burgers, call it however you want but definitely a delicious healthy recipe. If you like to eat in between Burger Buns with sauce, Mayonnaise and salad leaves they become Burgers OR If you don't want to eat it like that you can just eat with a ketchup or sauce they become cutlet, If you want to make it like restaurant, Hotel or take away style you can deep fry them. I grilled them and put them on the stove top with a bit of oil to give that good perfect look.
My kids love these kind of Burger / cutlet I make, and usually make them in different ways, I have got a few in my draft, this was also in my draft :), when Moong dal and Pepper were the magic ingredients, I was shocked to find how many recipes I have in drafts, I should have started posting from the day she announced, but with my Neck stuck and I sitting here looking like a ostrich with my Neck collar it is so difficult to even sit and type or sit comfortably but then I thought I will pull myself and do this, as this is good chance to post some in my drafts than them still waiting for me to publish right ?. Ok let me stop at this, and get back to the recipe. Here is how it was made... Hope you like it

SPINACH AND MOONG DAL CUTLETS / BURGERS


INGREDIENTS:
1/2 Cup Moong Dal
1 Bunch Spinach
1 Large Onion
2 Medium sized Potatoes
1 Medium sized CarrotCup
1/2 grated Cauliflower
1/2 tbsp Ginger- Garlic Paste
3 to 4 tbsp of Coriander chopped
1 tsp Chilli flakes
1 tsp Pepper powder
1/2 tsp Cumin powder
1 tsp Coriander powder
Salt as required
2 cup Bread Crumbs ( use as required )

HOME MADE BREAD CRUMBS FRESH
2 to 3 Brown / white bread slices
1/4 cup Walnuts
Grind both of these in a mixie / food processor fry it in a wok / pan for few minutes until it looses the moisture in it.
FOR THE COATING / COVER
1/4 cup Corn Flour and 1/4 cup All purpose Flour and water as required to make it into a sauce consistency
OR you can use Egg instead of this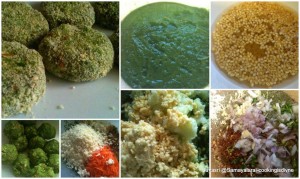 METHOD:
Clean, Chop and cook spinach in a very minimum water say around 1/4 cup water or even less, I cooked it in my little cooker in a low flame, that way they don't get stuck to the cooker. Puree the cooked spinach.
Next grate cauliflower and cook the same way, drain out the water and keep it separately.
Next grate carrots, onions and keep it aside.
Wash and soak Moong Dal from at least 2 hours, cook it until they become soft but doesn't loose too much of their shape then drain out the water. ( The water can be reserved and can be used in making Rasam / sambhar )
Cook potatoes peel the skin and mash them up as well.
In a wok / pan add 2 tsp of oil add G-G paste chopped onions all the spices saute for just few minutes, then add all the other Ingredients mix them up well.
TASTE and adjust OR Adjust , salt and spices in it, as you like it, ( I usually make it less spicy because one kid doesn't like to eat anything spicy, the other two eat everything with Nando's Sauce which is very hot, so I try to adjust to see that they don't eat anything too hot and spicy).
Add bread Crumbs ( If you don't like too much bread crumbs the burger will only be a bit softer and doesn't hold shape if you are not careful, I always use less bread crumbs so I really struggle to make them hold well together but I like it that way ).
So, add bread crumbs and bring them together they will hold into shape then, make round balls of the size you prefer then flatten it a bit.
Dip these balls in the Sauce you have made ( or you can use Eggs to coat them ) then again Dip them in bread crumbs. When all of them are ready coat them with a bit of oil on all sides and grill it for 15 to 20 minutes on Gas Mark 5, they will harden up a bit.
Now transfer them on to the girdle / flat pan / tawa on the stove top then with help of little oil toast them or shallow fry on both the sides for few minutes until you see it is roasted well on both the sides.
Serve them immediately with some fresh salad leaves or with Burger buns and sauces or as you wish.
Enjoy...
A few days back my kids were saying it's been a long time I made these kind of things and they love my Burgers and miss it..
Tune on I will post some more these kind of recipes...
Sending this to Kalyani's Magic Mingle # 7 - Moong Dal and peppers
Kid's delight - evening snacks and tiffins hosted by vardhini started by valli
sending this to Learning to cook hosting Dish name starts with M, hosted by Akhila
Sayantani of A home maker's dairy hosting Monsoon of India started by Jagruthi
show me your hits Lentils - Legumes by Nalini's kitchen started by Sangeetha
MLLA# 49 hosted by Simone of Briciole started by susan of the well seasoned cook
vardhini's Only vegan - Kitchen chronicles started by Kalyani
Priya's Olympics 2012 started by Jagruthi