Hi everybody hope you are doing well, I will not bother you with my moaning again, I know I have not still posted my T and T event :(, hope to do so in the coming week, I have been very busy with lots of things going on at home front, Next week will be last of the school term for the kids, so I might be more free, weather is lousy here raining from past 2 days, Had to clean the garden with weeds growing every where, cleaning up has given me lot of back ache and neck pain. Coming to the post, I have made this roti so many times, my sister had given me this recipe, but had never posted it at all, when I was doing this T and T from Deeba's blog, I stumbled upon this cake recipe which she had made from here, and this she made because of the
Secret Recipe Club
which she had joined, me curious as always, wrote to them as I fell in love with this Idea of this club, and I was asked to try out from this blog -
the Novice House Wife
, what a beautiful good looking blog with beautiful recipes, when I searching for the recipes, I felt very homely in her blog, loved the clicks too.., that's when I saw this Missi Roti, as she says its an authentic recipe, and I took it, had this thing in my mind that I need to post it, I decided to do this again and blog about it.
MISSI ROTI (Authentic Punjabi Cuisine)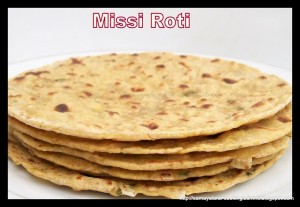 As Shumaila says in her own words ''Missi roti, pronounced "

Miss-ee Row-tee"

is a staple in Punjabi homes and is basically roti prepared from besan or gram flour/chickpea flour. Served with a dollop of butter and accompanied with any Indian vegetable or lentil dish, missi rotis are an excellent way of sprucing up the proteins in your diet. Missi Roti can be served for breakfast with curd or pickle. Missi Roti is good for diabetics too because of gram flour added to it as an ingredient. Gram flour is said to keep insulin levels in check! Missi roti makes you very thirsty, so be prepared to drink a lot of water after eating it!

''
So that's it now you know a lot about Missi Roti , she says it is traditionally it is made in tandoor but at home, as we do not have tandoor's we can make it on the tawa(cast Iron Skillet). She writes about how her mom adores pomegranate seeds and it is the key ingredient for this rotis flavour. Luckily because of my Pomogranate seed event I have started buying them often and I always have them in stock, I did not miss it in using it in Missi Roti, as I have made earlier a couple of times, couple of things I missed out in this roti were Anardana seeds and chat masala, and the Gram flour kind of upset my tummy, when she wrote that you could change it as you want it, I didn't mind at all. So, I made a few changes, when somebody tells me it is healthy I don't mind trying it at all. As we all know health nuts like me that it is more nutritious than Naan which is made of plain flour and this one uses Gram flour and Wheat flour, it is high in protein and Iron, what else you need....
Here we go with the recipe then.......
I have changed a little bit as we are 5 people (2 Adults and 3 Teenagers!)
2 Cups Gram flour/ Chickpea flour(Besan), sifted to remove any lumps
1 Cup of Jowar Flour
4 tbsp Fresh Coriander leaves ( about 4 to 5 Sprigs) finely chopped
5 Small Green Chillies, finely chopped
2 tbsp of Kasoori Methi dried
Water as Required ( I say as required, because of the Gram flour and Wheat flour might be used from different brands and the water might be less or more if I tell you the right amount, I used around 1 ½ cup, as my Gram flour isn't like the one I get in India).
Ghee and Butter as required
First of all In a pan Dry roast cumin, Ajjwain, Coriander seeds, until a nice aroma comes out of them, Using a pesle and mortar, coarsely grind the seeds well enough, crush it not very fine, shall I say fine coarse!
Take a Large bowl, add all the Ingredients except flour, butter and water.
Mix all the Ingredients to together, I left it for a few minutes as the Onions give out water, once mixed with salt,
Meanwhile I sieved both the flours together, then added them to it, and mixed them well together,
Make a whole in the middle and gradually add water, bringing in the mixture together just like a chappati dough, do not make it sticky or not too hard, let it pliable and smooth, so that you can roll it with a rolling pin.
Knead it well enough into a smooth dough, cover it with in a container or with a wet cloth to rest for 10 to 15 minutes.
Meanwhile heat the Griddle/Tawa/Flat cast Iron skillet/ Hot Iron plate on a medium high heat.
Then roll them into small balls, Taking one small ball at a time flatten it with a rolling pin then if you think the dough is slightly sticking on to the pin, immediately dip the round ball into the rice flour, or dust the flattened dough with rice flour on both sides and start rolling them again into a nice round chappati.
Put this flattened rolled out dough circle on the hot skillet, cook for about few minutes on both the sides, when you can see, brown spots coming up and the dough turning into golden colour, flip it on both the sides to get it evenly cooked, apply butter/ghee on both the sides, until it is lovely golden brown in colour, that means it is done.
Serve it with butter/Ghee and with any Indian side dish, I made a Tomato Chutney it was fabulous.
Thanks Shumaila and Amanda for this wonderful event and loved it very much by everybody at home.
see you soon with an other recipe, do check what others have been doing.