I keep making this Matki ki Subzi now and then, when I came back from India last time, I had been to my sister's place in pune, she keeps making this gravy and my kids liked it very much, when I came back here I found these beans in Asian shop here and always tried in her style, which is a very simple way she learnt from her Marati friend. But, as always a but.... You know by now if you are a regular reader of my blog I always want to know more about spices and I love using them in various food I make and I am always so very delighted to try them out, don't you agree, I was looking for authentic recipes, and I love Every mom's cooking! the style and the experience always matters, and
here
I found a wonderful recipe very authentic I thought, I love her blog her writing skills and her cool way of blogging, she doesn't blabber or doesn't have any fanciful things in her blog, so plain and beautiful that's what I like in her, someday I want to change my blog like hers.
Do believe me, I made A for Amti Masala, K for kollapuri Chutney (I did just like her mom's not her easy way out :)), Have you been to Kollapur anytime, do surely go, I love the Mahalaxshmi temple and of course my favourite Kollapur slippers, I always had a pair with me and loved to walk in it especially during summer, what a sound elegance and comfortable touch it gives you.
sorry for going away from the topic, yes I made it too, I still have some left which I can use a few more times I suppose.
I kind of made it not as she described it as chat, I made it to go with my chapatis and pulkas.
USAL/MISAL GRAVY (MATKI/MOTH BEANS GRAVY)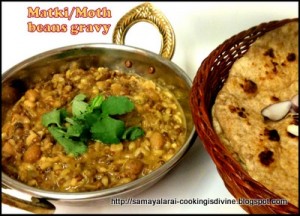 First of all you need to sprout the Matki/Moth beans here is a picture of Moth Beans/Matki and its sprout 🙂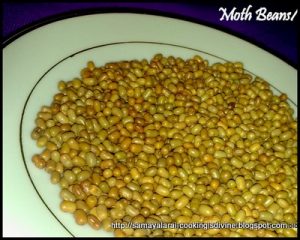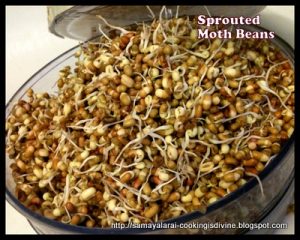 Soak the Matki/Moth Beans over night, drain out the water, tie it in a muslin/cotton cloth and keep something heavy on it and sprinkle water now and then within 2 days you can see the sprouts this is an old method sprouting happens depending upon the legumes you use, otherwise, buy a sprouts maker (sold in India/Bangalore which I bought for 200/-, which has two tiers and you can sprout two at a time)
Coming back to the recipe :
Recipe Source : Nupur's - One hot stove
INGREDIENTS:
1 Cup Matki/Moth Beans (yields about 3 to 4 cups of sprouted beans)
1 tsp Cumin seeds
1 tsp Mustard seeds
1 sprig of curry leaves
1 large onion (2 medium onions)
1/2 cup Peanuts (raw/roasted)
2 Medium potatoes
3 to 4 flakes of Tamarind
1 tbsp of Jaggery
salt to taste
MISAL PASTE
This is her mom's method of making this usal which I thought very authentic, than Nurpur's short cut method, so as she was kind enough to post it, I was quite happy using this method.
Here it is how she makes:
2 Chopped Onions
1/2 cup fresh coconut
1 tbsp Kollapuri Masala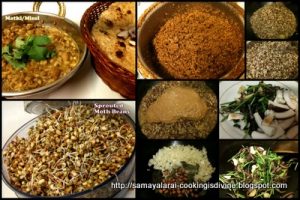 METHOD:
Heat oil in a kadai, add cumin seeds and mustard seeds once they splutter, add onions and saute them, until they change colour, then add potatoes, Sprouts and Peanuts ( I precooked them, as I did not know how well they cooked this way).
Simmer and cook all the above said Ingredients with 3 to 4 cups of water until they are well done.
soak Tamarind in 1/2 cup of water and microwave for a minute, remove it from oven and keep it aside until you are able to squeeze the juice out of it.
Meanwhile saute onions until brown and then add the fresh coconut and kollapuri masala, grind them to a smooth paste.
Add this Masala paste to the cooking gravy with Tamarind and Jaggery, Taste and adjust the seasonings to your taste, cook them until the gravy thickens and the seasonings are perfect, Garnish with Cilantro (coriander leaves) and then switch off the stove.
Ready to serve with anything you wish.
If you want to turn this into a chat, all you have to do is go to her blog :)), she will tell you what to do, I will try to post it an other time, as I did not make it as a chat but had it with my pulkas!
Sending this to PJ who is hosting Flavours of Maharashtra started by Naina
I would like to send this to AWED - Indian Cuisine, hosted by Taste of pearl city