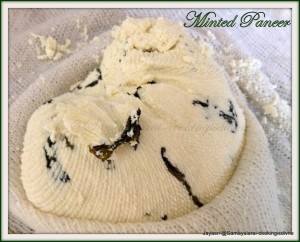 Paneer as I have already told is a Cheese made the Indian way, which is usually used to make sweets and to loads of curries with spices. This is also called Cottage Cheese, It is very easy to make. I love paneer basically in sweets, most of the bengali sweets are made from this sweet.
This all idea of making Mint paneer came out after this post, Now thinking about it you can make coriander, dill, curry leaves Paneer what do say .... ?, watch out I will be posting some recipes out of these too :))..., But right now we will stick to this and go on reading about what and how I made this......
Basically I need to thank Kalyani, her event Monthly Mingle made me try out this, I haven't regretted as my kids loved and enjoyed it...
Look out what I have made from this recipe I tried two new bakes and I have loads of ideas on trying out this Minted Paneer in various ways!
Hope you all like it.....


Ingredients for Mint Paneer
1 lt Full cream milk
1 to 2 tbsp Lemon juice / vinegar / whey water / yogurt
washed 3 to 4 sprigs of Mint leaves
METHOD: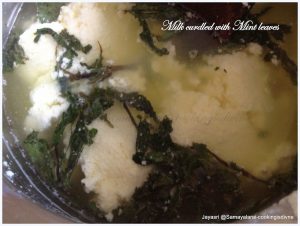 TO MAKE MINT PANEER:
To make Mint paneer, it is very easy.., Take a litre of milk in a bowl insert a ladle and heat up the milk with cleaned, washed and wiped Mint leaves, when it starts boiling, add the lemon juice ( I also added 2 tbsp of home made yogurt/curds), within few minutes, water splits from the milk and you will see the cheese.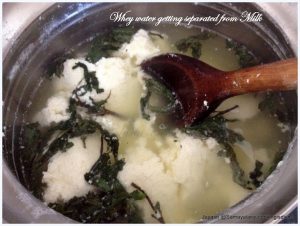 Drain the cheese into a cheese cloth or any soft cloth, what I do is......, Take a colander/sieve cover it with a cheese cloth and place it on a bowl, then pour the split milk into it when all the water drains out, take the colander / sieve to the sink run water on it at least two to three times this helps to get rid the smell of vinegar.
You can keep the whey water which is helpful in making chapatis, or this can be used when making paneer again and also in many various ways.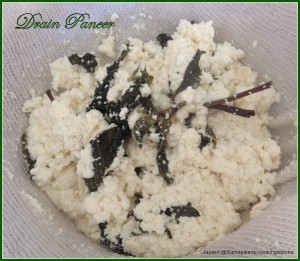 Once it is drained, tie it tightly and leave it for sometime using something heavy on top of it, this helps in drain ing out the liquid completely. Now this can be used as you want it...
This is plain Paneer.. where you don't add anything to it... :)) also called Cottage Cheese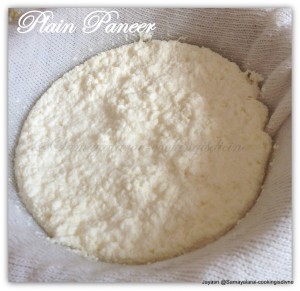 This Mint Paneer goes to Magic Mingle #5 of Kalyani's