Hi everybody, hope you are all doing well, I know I disappear now and then, as usual I had such a mixed temperature today, all my work was in hay-where, in the end I did end up doing lot of things undone!, This has been in my draft from a long time, say when
priya of Mharjo Rajasthan
announced her T and T from
US Masala
:)). I tried two of her recipes and one is this, It's me, I do my things at my own pace which is really not good for a competition or meeting dead lines. Well, I can't help it, with a family around you everything takes its own time.
Anyways, this was a total hit in my family, My kids just loved it, I did not make the Ganache at all, as usual I baked it late in the night and left it on the kitchen counter, We all went our ways next day and when I came back from work, I had left with only three!, so I just dropped the Idea of making Ganache, Dear little girl, who usually helps me with the photos,(my eldest) had been kind enough to leave 2 of them intact and the other one was almost ready to be consumed (that is why you can see in the photos that one is broken!!), and had to be stopped for our clicks. Thanks Aipi, for this wonderful recipe, my kids loved it (me too!, I usually don't eat, got tempted and was nicking from their plates), My eldest was asking me to bake again!, Here we go with the recipe..
INGREDIENTS:
1 Cup Atta
3/4th cup All purpose flour
1/2 cup Chocolate chips
2 tbsp Cocoa powder
1/4 tsp salt
2 tsp Baking powder
1/2 tsp Baking soda
3/4 th cup Sugar
1 Cup Milk + 2 tbsp
1/3 cup oil
1 tsp Vanilla essence
1 and 1/2 tsp Coffee powder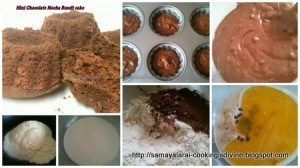 METHOD:
Preheat the oven to 400 dF/200 dC/ Gas mark 6, Spray or butter your Mini bundt cake tins and keep them ready.
First of all take both the flours and all the dry Ingredients except for chocolate chips and sugar, mix well, until well combined sieve all of them thrice at least so they are all well incorporated.
In a large bowl mix all your wet Ingredients thoroughly, do not whisk too much.
Then add the choco chips and then add the flour in batches, while seeing to it that you have no lumps and it is fully and thoroughly incorporated into the wet mixture, if you feel it is too thick add one or two tbsp of hot water.
Pour this into the prepared tins and bake for 20 to 25 minutes depending upon your oven temperatures, or until when skewer inserted comes out clean.
Take it out of the oven and allow it cool, once it is cooled top it with Ganache and enjoy this lovely cake
Minor Changes I made : I interchanged the measure of the flours, I did not melt the choco chips and of course did not top it Ganache.
How to Make Nutella Ganache:
Take 3 tbsp of Nutella and add 1 and 1/2 tbsp of milk or Cream and heat it in Micro wave for 30-40 seconds, until it is of flowing consistency, pour it on the cakes and enjoy.
It was a very wonderful cake so soft and beautiful, and you would never know you missed Egg in it 🙂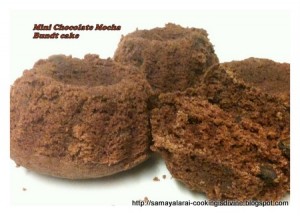 Take a look at her blog at this link for a wonderful click of this recipe and how she has made it ….
Sending this to "Only series" of Pari's being co-hosted by Harini of Tamalapaku's "Only Baked event" .