A Celebration, a wonderful occasion, a life time commitment, a very special and unforgettable moment in a person's life, that is marriage. Marriage is such an occasion a vow for life, with love, understanding, sharing and faith. A complete celebration with fun and food with relatives and friends, but we are not left are we ? We bloggers from the Blogging Marathon Group by Valli, decided to have a small virtual gift to this blogger friend who is getting married next week, A wonderful blogger with wonderful recipes and has a huge fan
Arathi of Yummy tummy
.., is getting married to Satheesh.
Arathi and Satheesh wishing you all the best and a very Happy married life to you both. with lots and lots of love from me and family.
I always change recipes, but today I didn't, I just made this burfi without any modifications and My H and FIL loved it so much, me who doesn't like sweets fell for it because I love milk and milk based sweets that is why I like bengali sweets, have I said this everytime I post a sweet, I wonder…, Anyways totally the whole family loved it. You try this out and tell arathi… how much you liked it 🙂
MILK POWDER BURFI
RECIPE SOURCE: Arathi of yummy tummy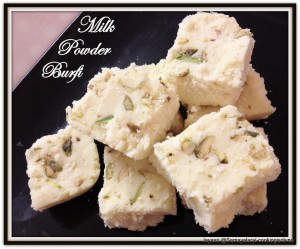 INGREDIENTS:
200 grams Milk Powder
1/4 cup water
1 and 3/4th Cup (200 grams) Sugar
50 grams Ghee
1/4 cup of Chopped Pistachios for topping
METHOD:
Take a plate or a pan grease ghee to it and leave aside until needed.
Take a deep pan / wok melt ghee, Add milk powder and fry in a low flame for few minutes.
Then in the same wok or a deep pan add 1/4 cup water or add water until the sugar is immersed completely.
Let it boil for few minutes around 8 to 10 minutes, that is until it reaches one string consistency, you can check this by first dipping your finger in water and immediately into the syrup, be very careful as it will be very hot.
when you stretch the syrup between thumb and forefinger a string is formed from the sticky syrup this is one string consistency.
Bring it to low flame and Immediately add the roasted milk powder, mix well together so it is completely incorporated into the syrup and fry for few minutes add a little bit more ghee if you need.
Be careful so it won't get stuck to the pan.
pour this into the pan and flatten it and chop few pistachios topping it to decorate.
Leave for few minutes, cut into desired shape and serve.
Here is a lovely photograph from Art Royale photography, who have a collection of wedding of photos.., beautiful clicks…. Enjoy….
To Arathi and Satheesh for a wonderful life ahead……
with lots of love and wishes….
May the God Guide you through this new adventure,
Bless you with all the Best things in life,
Wishing you days filled with Happiness and
Share your lives with joy and a bright promise for the future,
Let your marriage be a journey of faith, commitment and togetherness
A friendship you can face with every Challenge together with confidence.
May this marriage give you both all the joy you ever wanted for
And a journey with a blessing by the Lord.
A very Happy married life to you both on that specially day which brings you together heart and soul……
Love
Jayasri and Family..
Here is the other Bloggers who made this a real treat for eyes do check their blogs….