This Parantha I used to make in a south Indian Style I think because I never used to add all the below said ingredients when I was making it, But, I made friend with a Rajasthani lady who used to be my neighbour, when I was in Bangalore. I used to take tution to her children, it was fun because I used to learn new dishes & she also used to learn our kind of dishes, I always appreciated them because within few months staying in Bangalore, she used to speak Good Kannada & Tamil I really do not know how she learnt !!!. well, I will be posting some of the recipes I learnt from her and here is the first one.
METHI PARATHA (FENUGREEK LEAVES PARATHA)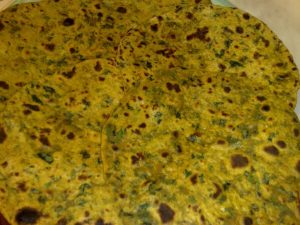 Ingredients:
1 cup of Methi leaves (1 bunch with tender stalked methi leaves)
1 tsp of Turmeric
1 tsp of Chilli powder
1 tsp of Dhania powder
1/2 tsp of Jeera powder
1 tsp of Thyme (Omam)
1 tsp of salt
1 to 2 tbsp of oil or Ghee
2 to 3 cups Wheat Flour
METHOD:
Wash and cut the Methi leaves
Take them in a bowl, add all the above said ingredients and mix well, Then in the end add Wheat Flour and with adding water little by little make it into a chapati dough.
Make them into round pulkas that is do not fold them like chapatis roll them with the help of rolling pin and cook on both the sides, allow them to cook first when you see tiny red marks coming up on them smear them now with oil or ghee turning to both sides cook them evenly.
Serve these hot methi paratha with a cup of thick curds of plain Yoghurt's.