Hi hoping to post two more recipes, so I could participate in the events, let me start with this post let me quick and go right into the post :)).
I had some Spinach,
Methi (Fenugreek) Leaves
in my fridge, as I could not use just one and make a gravy I decided to use both of them, then I started making some little changes to my gravy from just greens.
So here how it goes..............
METHI, SPINACH AND PANEER GRAVY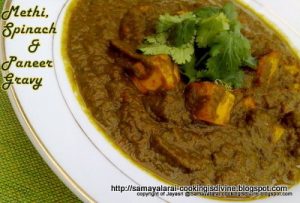 1 Bunch Fenugreek (Methi) Leaves
300 gms Spinach
200 gms Paneer cubes (shop bought)
1 Large Onion
1 tsp Garam Masala powder
5 to 6 stalks of Coriander leaves
6 tbsp of Oil
Salt as required
8 Medium Sized Tomatoes
2 Garlic pods
1'' Ginger
1/2 tbsp Red chilli powder
1 tsp Coriander powder
1/2 tsp Cumin powder
1/4 tsp Turmeric powder
1/2 tsp Amla Powder
1/4 tsp Turmeric powder
1/2 tsp Chilli powder
1/4 tsp Salt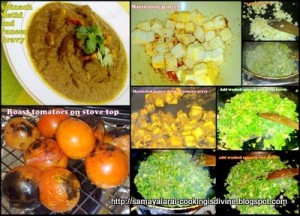 On the stove top as you can see in the picture, Roast the Tomatoes, peel off the skin, puree them with garlic pods and keep it aside.
Meanwhile when the tomatoes are roasting on the stove top, Cut the paneer into cubes and marinate them with the above said Ingredients.
Do not chop the Fenugreek leaves, not until the time you use. Just wash and pluck the leaves with thin tender stems, do not use the thick stalks as they don't cook very well, and might get stuck when eating. I used ready to use Packed Spinach from the supermarket, I just decided I will chop both of them when I use them.
Take a Large wok, heat 3 tbsp of Oil, add chopped onions, grated ginger and fry until it becomes soft and transparent, Meanwhile simultaneously when it is cooking, chop the Greens otherwise, if it is not possible, just lower the flame of the frying onions and then chop the greens.
Add these chopped greens to the wok and fry them till they become soft.
Meanwhile in an other wok add an other 3 tbsp of oil, when it is hot add the pureed Tomato paste and fry until oil separates out then add all the masala powders under the gravy heading and fry for few more minutes, it might become kind of dry when you add the masalas not to worry, just sprinkle a little bit of water, If you don't mind oil you can add another 2 tbsp of oil, then add the Marinated paneer and fry very carefully so they don't break apart. so, the paneer is well coated with Tomato paste and paneer absorbs the masala in it.
Add this Paneer gravy to the cooking Greens mix well until well combined, then add the Garam Masala powder and chopped fresh coriander leaves mix well, close the lid for an other 5 minutes in a medium flame, Now the Spinach, Methi and paneer gravy is ready to go with pulkas, chapatis or Nans.
REMEMBER : Add the masala powders to your tastes as everybody's taste differs, I might not make it too spicy and my chilli powder might be different than yours :))
Cut a slice of Lime/Lemon and squeeze it before you serve or just leave it on the plate with few chopped Onions to go with it. Yum yum...
This is a click of Fenugreek Leaves and I have given a link to the wikipedia to tell you lot about Fenugreek leaves, It is a very healthy Green leaves... check out...
This is an other click of my Garvy...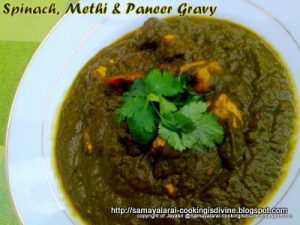 Sending this to Torviewtoronto's -Food Palette Green, Hope she likes it....