Hi everybody, here is one of my favourite Gojju (Tangy gravy), In Karnataka people make Gojjus using few veggies goes very well with sweet and sour combo and even Ingredients.
One such Ingredient we have used here is Fenugreek / Venthayam / Menthya and is called Menthyad Gojju, This gojju is typical authentic recipe from the parts of Hassan District, In Dad's home town they serve this with Ubbu Rotti, we also eat it with Chappati, I had never thought of learning this from my mom, One day when I was visiting my friend Vatsala's ( They are my relatives) , but I prefer to say that she is my friend, she is closer to me that way I suppose :), Her Mom-in-law and my Atte (father's eldest sister) were very good friends, Dad is from Hassan District they also come from Hassan district, she is a very good cook.
One lovely day when I went to see her, she had Ubbu rotti (puffed up Rice flour pulka ) and Menthyad gojju (Fenugreek gravy). Combo made in heaven that is what I think, you try and you would second me on it. Just loved it so much, I pestered her to teach me, After I tried, it turned out very well indeed as always First taste is the best taste you can't ever beat it right ? .....I really do not make as she makes but my children say I have done it very well!!!, My FIL likes it very much, I always make this for him.
MENTHYADA GOJJU (FENUGREEK TANGY GRAVY)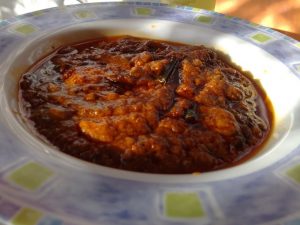 2 tsp of Fenugreek/methi/menthya/ Venthyam seeds
1/4 tsp cumin seeds
8-5 Red chillies (Guntur-Badgi)
a pinch of asafoetida
Gooseberry sized Tamarind ( around 20 to 25 grms)
1 sprig of curry leaves
2 to 3 tbsp of oil
1 tsp mustard seeds
2 tbsp Jaggery (optional)
METHOD:
Fry fenugreek seeds, cumin seeds and red chillies in a wok and keep aside to cool, fry fenugreek seeds until they are golden brown in colour do not allow it go black in colour.
Soak tamarind in 1 cup of warm water and extract thick juice out of it, filter keep it aside.
Take a deep bottomed wok, heat oil and a tsp of mustard seeds when it splutters add curry leaves and the extracted Tamarind juice and allow it boil in a low flame for a few minutes, until the raw smell of Tamarind disappears.
Meanwhile fine powder the fried ingredients in a mixie and make it into a paste with very little water
When the juice boils for few minutes and the above paste and mix well together with required quantity of salt and asafoetida and leave it on the stove for few more minutes.
If you want you can add a little bit of jaggery it is optional keep stirring , when you leave it in the wok for few more minutes it starts to thicken, switch off and remove it from the stove and now it is ready to serve.
It goes very well with chapatis, rottis and with rice too!!
Best I love to eat this with is my
Ubbu Rotti / Ukkarisida Rotti
This is a good one people who are diabetic Friendly sorry no offence just a teeny weeny joke :), you can omit Jaggery and is good to go for you people !!