This is again an other one from
Nupur's
Blog, which I made sometime back when I was searching for Amti Masala for my Matki /Moth beans subzi, which I was going to prepare learnt from my sister, This is my second Matki / Moth masala subzi which I am posting my sister's way.
She told me her Marati friend taught her this quick way for making this subzi with this masala powder, I was wondering what shall I do for this masala powder and here it is in her blog. viola! :), how can I resist not making it, so here it is Labelled and stored :)), thanks dear Nupur for posting this recipe, lovely and enjoyed it.
AMTI MASALA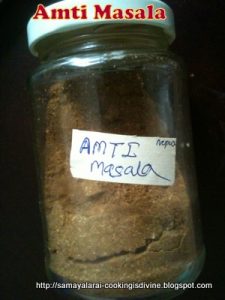 Can u see the little Nupur on the side :), I just named it that way so I could remember where I got this from!
Recipe source : Nupur adopts from ''Lajjatdar Masale'' by Mrs.Vaijayanti Kelkar
INGREDIENTS:
1/2 Cup Coriander seeds
1/4 cup Cumin seeds
2 tsp Shahi jeera (Black Cumin seeds)
10-12 Cloves
1'' Cinnamon
METHOD:
Dry Roast all the spices (I used a 1/2 tsp of oil) in a medium flame, until all the Ingredients change colour, cool it down and Grind it into fine powder, and store it in a cool dry place in an air tight container.
This Masala Nupur says is mostly used in making Amti Bhaat Bhaji translated as Lentil dal.
I used in making this Matki/Moth Beans subzi.
MATKI/ MOTH BEANS SUBZI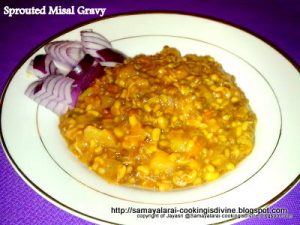 Sorry doesn't look good, but tastes good!
INGREDIENTS:
1 Cup Matki/ Moth Beans sprouted (yields 3 to 4 cups of sprouted Matki)
2 Medium sized Potatoes
2 Medium sized Tomatoes
1 Large Onion
1 tsp of Turmeric powder
1/2 tbsp of Red chilli powder
1 tbsp of Amti Masala
1/2 tsp of Amla powder
SEASONING:
1 Tbsp of oil
1 tsp cumin seeds
1 tsp Mustard seeds
few curry leaves
METHOD:
Heat a pan with oil, when hot add the seasoninngs, when they are done, add chopped onions saute, them then add the chopped Tomatoes, sprouted Matki and cubed potatoes saute them together then add 2 cups of water, bring it to a low flame cover with a lid and allow it to get well cooked, then add all the spices mix well, allow it boil and to get it thickened, if it doesn't add a tbsp of corn flour/Rice flour, but I prefer to mash a few potatoes which are well cooked, helps the gravy to thicken, adjust your spices to your taste, don't have to use the same amount as said above, because usually the spices we use might be different from yours, Add salt as required mix well, Garnish with fresh coriander leaves and serve hot with chappatis/pulkas or with anything you wish to eat it with.
I am sending this to Flavours of Maharashtra, started by Naina and hosted by PJ, and to MLLA#33 started by Susan and hosted by Ammalu's Kitchen.