Masala vada is nothing but Paruppu vadai or vada with Dill leaves and onions, If you do not add these they become ordinary vadas.
Dill Leaves have a distinctive smell which makes it more appetizing, This is called Sozhi Keerai in Tamil / Sabbakki or Sabsige soppu in kannada
These plain vadas are a regular in our Tamil cuisine in most of our festival cooking, Amma makes these masala vadas in ordinary days, especially when it is raining, cold winter days or when we all three sisters meet in amma's place!
A hot cup of tea in one hand and eating these vadas when amma brings them right from the sizzling pan straight to a single plate in front of us, God know how many we would have eaten, when the dal batter gets over amma would make next in line Maddur vada. Mmm.., those days so memorable such refreshing memories, wish many a times I miss all those days and would love to be back home.
This is what amma did when I went to India, I had this in my camera, I just downloaded it and thought of posting. In our family when ever amma visits anybody they ask her to make vada's and like some special occasions and festivals if she is invited then she has to do this...., that is her speciality. Everybody in the family love amma's masala vadas.
When I was in India, when ever I used to call her and tell her I am coming home with my kids in an hour and Lo!, within a few minutes I reach, she used bring these vadas in a plate..., just like in the photo, that's what she did when i went to see her, bless her, they were so tasty, yummy, spicy, crispy mmm.., I need some other words to describe...., my children love it every time they gobble and turn around tell me, you don't have that kick in your vadas ma!..
MASALA VADA
Soaking time: 2 hrs
Prep time: 15 to 20 minutes
Cooking time: 15 minutes
makes (medium sized) : around 25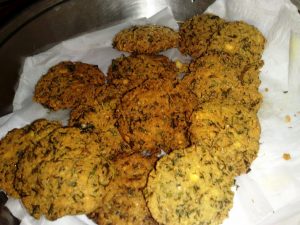 2 cups of Channa dal
5 to 6 green chillies
1/2' ginger
1 sprig curry leaves
1/2 bunch dill leaves
1 or 2 Onions
1 tsp sugar
salt as desired
a pinch of asafoetida
Wash and soak channa dal for an one or two hours
Then grind it into a coarse paste in a mixer or grinding stone with ginger and green chillies
wash and chop dill leaves finely, chop onions.
Once dal is grinded, mix it with salt, chopped dill leaves, Onions and curry leaves
Add pinch of asafoetida or if it is in liquid form add a few drops
Add a tbsp of hot oil
add salt and mix well
while grinding, use as less water as possible, as I have told you earlier, more water while grinding it will absorb more oil.
Keep this mixture ready in a container.
Take a wok for deep frying, pour oil and allow it to heat up, hold your hand on top of the wok a few inches (4 to 5 inches ) above the oil and check if the oil is hot.
Keep the heat always to medium do not over heat, or else whatever you try to fry will fry quickly that is brown outside fast and will not quickly inside.
Take a lemon size of the mixture, wet your palm with water and flatten it on your palm one by one and deep fry in the oil 4 to 5 at a time, depending on the wok you are using to fry them
deep fry the first batch take out and then fry the second batch, take them out and fry the first batch again and take it out these will come out nice and crispy, follow the same method with the rest of the batter.
This way of frying makes the vadas very crispy
Vadas are ready to serve with hot Tea or Coffee
If you want the vadas to be a little soft amma says add 1 or 2 tbsp of fresh coconut while grinding.
You can use finely chopped 2 or 3 onions only
Or you can use dill leaves only
You can also add mint leaves with onions
You can use Dry red chillies instead of green chillies
If you do not add dill leaves or onions it becomes a plain vada