My husband is going out of town so I always pack a lunch box for him. He just makes rice and uses these side dishes to mix it with rice and eat. It is easy for him that way, he likes home food better than restaurant food.
Today I have prepared Mavinkaayi (Mango) Gojju. Actually, I don't know what to call it. I make this basic recipe and its one of my favourites, again, learnt from my mom . My children also love it and it stays for 2 to 3 days even if it is not refrigerated I do not know in Hot countries as we had no chance of testing!!. If I keep it in the fridge it stays almost for a week.
It is very easy to prepare, all you need is nice sour mangoes which are really really green in colour and quite hard when you press it, I mean I test them like that, here in UK sometimes I do get nice sour ones rarely but most of the times when I cut the mango and taste it, its sweet 🙂 !! well, that's it then I don't like preparing it at all because they will not the give the Raw Mango taste in the rice. well here is my recipe:
MANGO RICE/MAVINKAAYI CHITRAANNA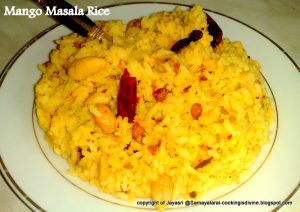 The click is not good!! but make it and you will definitely love it!!
Select Nice Raw Mangoes....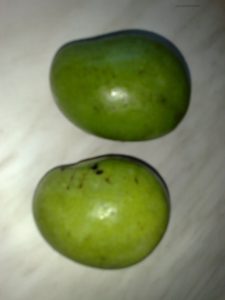 First of all select nice green mangoes like this, peel out their skin, and grate them or if you want you can cut them into small chunks.
Ingredients:
To Grind:
1or 2 sour mango (Raw and green) (if it is 1 cup)
1/2 cup to 1/4 cup fresh coconut (if u increase the quantity of coconut the taste of mango will disappear, once you try it out you will guess how much coconut you like to add)
1 tbsp of mustard seeds
4 to 6 dry red chilles (guntur-byadigi)
1/2 tsp turmeric
a pinch of hing/asafoetida
4-5 tbsp of oil
seasoning:
1tsp mustard seeds
1/4 cup Ground nuts
1 tbsp channa dhal
1 tbsp urad dhal
1 sprig curry leaves
If you need you can add 2 or 3 red chillies for tempering
2 to 3 tbsp of oil
METHOD
Grate on the thicker side or chop them into chunks.
Grind all the things under Ingredients in the mixer into a coarse paste do not add water.
Heat oil (4-5 tbsp) in a wok or pan then add a tsp of mustard after it splutters keep it in a low flame then add a fist full of ground nuts roast for 2 minutes when it starts opening up add channa dal, urad dal , curry leaves roast for a minute, they change colour to golden yellow.(do not fry till they become too red).
Add the ground paste, and then fry in the oil for 3 to 4 minutes till the water content in the Mango evaporates from the paste (add some more oil if you want to take it away for a day or so).
Cook rice in the pressure cooker or what ever method you use, to cook rice. Alow it to cool and separate the grains, now mix the rice with prepared gojju and serve it with nice papads or raitha.
VARIATION:
You can add 1 tsp of coriander powder and fenugreek powder, which gives a lovely Mango Rice a different taste.
Hint: When making rice for these kind of food varities like this, if you add a tsp of oil to the water in the process of cooking , grains will cook soft and get separated. Then you can see the grains not sticky when it is cool and use it for all the Rice bath varities.