When I saw Jagruthi's, Complete my thali event I wanted to participate, I thought I will not repost them but link my recipes in this and send it to her, then I had an other Chutney waiting for me in the draft, This is it :), Here goes my chutney to this wonderful event……
I made this chutney in the spur off the moment, I had a Ready made Dosa and wanted a chutney to go with it, when I looking around for some coconut, I found poor little small Sour Mango and a Red Pepper, my daughter told me to try out something with those two. well, the chutney was kind of nice, and it had a rather different taste.
MANGO – RED PEPPER CHUTNEY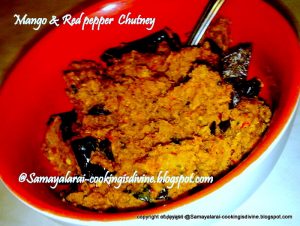 INGREDIENTS:
1/2 Cup Grated sour Mango
1 Big Red Pepper
1/4 Cup of chopped Coriander leaves (6 to 7 Sprigs)
1 sprig of Curry leaves
1 flake of Tamarind
3 tbsp of Channa dal
3 tbsp of Urad dal
2 tbsp of grated fresh coconut
1/4 tsp of Fenugreek seeds
1/4tsp of Mustard seeds
1/4 tsp of Coriander seeds
Salt as required
Seasoning:
1 tsp Mustard seeds,
1 tsp Oil
few curry leaves
a pinch of Hing/Asafoetida
METHOD:
First of all peel the skin and grate the Mango and keep it aside
Then Roast the peppers on a stove top, until the skin is blistered, peel of the skin and keep it aside.
Take a wok heat a tsp of oil, add the Dals, Tamarind and chillies and fry for few minutes until they change colour, then add the grated coconut and the washed and chopped curry leaves and coriander leaves and fry until they wilt and coconut turns golden in colour, take them out and keep it aside.
In the same wok heat a 1 or 2 tbsp of oil, add 1/4 tsp of Fenugreek seeds, coriander seeds and mustard seeds and fry until all of them change colour, (let the fenugreek become really golden brown, do not fry it till too dark) and then add the grated Mango and fry for a minute or two just that it softens up.
Mix all the ingredients together with required amount of salt, then grind it into a coarse paste then season it with the seasonings underneath that heading and serve it with Dosa or Idli or however you wish to use it.
with this chutney I would like to send all these chutney's to Jagruti's Complete my Thali event.
Ridge Gourd and coriander Chutney
Carrot, Tomato and Peanuts Chutney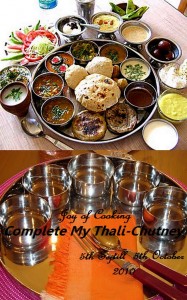 c u soon with some more posts.., take care , bye…