Today is Thiruvaadipooram, this is the day Aandal (Godai) was born, As Aandal was found in the earth she was called Godai, just like Seetha, she was an Ayonije (not born from a womb), They say that she was not a imaginative character but they have found that she truly lived and like meera she thought vishnu was her husband and married him ! She was born in Srivalliputur in Ramanathapuram District of Tamilnadu, The place still has the Tulasivana ( Holy Basil garden). In the temple these all still exist there Her father periyalvaar and Godai where they prayed God Vatapatrashai (sri krishna), and depicts that she lived. Aandal with her love towards sriranganathar gets married to him, the temple where she gets married to him is in Thiruchanapalli. She was also called Neeladevi as they say that she was Mahalakshmi's avatara, She was also called Shudikudutta Naachiyaar as she always made a garland for him and use to wear it on her head and see herself in the mirror and then she used to send it to the temple.Then she did a vratha which is in the song form, of how she prayed him to attain him and it is called Thirupaavai, and it is in 30 stanzas or paasharas, These songs are sung one each day in the month December which is called Dhanurmaasam in Tamil, The temples in south of India, like the vishnu temples get closed very early these 30 days, and song is sung everyday.., these songs tell how she did her vratha each day and how she prayed sriranga, even today lot of girls do this vrata to get a good husband & their married life live long, some of them sing this to attain the grace of moksha, and to fulfill lot of their wishes.
MANGO-PAPAYA RAVA KESARI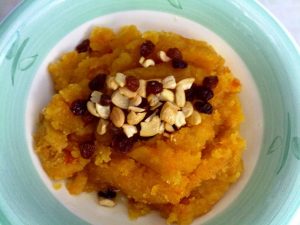 1/2 cup Chiroti Rava ( fine Semolina)
1/4 cup Mango pieces
1/4 cup Papaya pieces
3/4 cup sugar
1/4 cup Ghee (as required)
1/4 tsp cardamom powder
1 to 1/2 cup water
Kesar colour (optional & I did not use it )
A pinch of nutmeg
A pinch of Paccha Karpooram (edible Camphor)
1 tbsp of dry grapes ( ona drakshi)
1 tbsp of cahewnut pieces
Take a wok, add a tsp of ghee and fry semolina until it smells good and then take it out and keep aside.
In the same wok add water and allow it boil, meanwhile take the chopped fruits in a bowl and just cook it for a few minutes in the microwave, just that they become soft and mash them. So that they are completely mashed but you could little pieces in it, so when you are eating you could bite into some pieces of the fruit.
In the boiling water add this mashed up fruit and sugar and allow it boil, so that the sugar dissolves
Then add the cardamom powder, nutmeg, edible camphor ( I have not used here as I did not have it in stock!)
Then add roasted rava to it and mix well so that their are no lumps in it, and close it with a lid, keep the fire in a very low flame, and allow it cook for few minutes
Then take out the lid and add Ghee, as much as it takes, Rava keeps on absorbing ghee so much you might need 1 to 1/4 cup, as I do not eat so much ghee I use little quantity of ghee and when giving it to my kids I pour 3 to 4 tbsp of ghee on the hot kesari and give them!
Take a small wok heat a tbsp of ghee and when it is hot add grapes & cashews and fry them, keep the flame low, when doing this so that the cashews do not become too roasted, or fry them separately.
Now Garnish the rawa kesari with it and serve hot or cold.
Oh! it was absolutely delicious as we used to get pieces of fruits too in it, Actually I thought I will do poli (obattu) but changed my mind, Actually I was as usual rummaging my fridge, I found these 2 half pieces of fruits I thought of first indulging them myself as always whenever I see a fruit !, then I suddenly thought let me try out something with it, Seeing this Mango Mania and srivalli's Mango Round-up ! Hope you all like and try it out too...
It was quite amazing that it had a keshar colour (orange) too..., but it did give a orange coloured finish.