Idli is nothing but steamed savory cakes made with Rice and dal with a dash of fenugreek seeds, add a little salt to taste. This ready made Idli mix has Mangoes in it!  Oh! yeah, surprised right? but it is true and is delicious.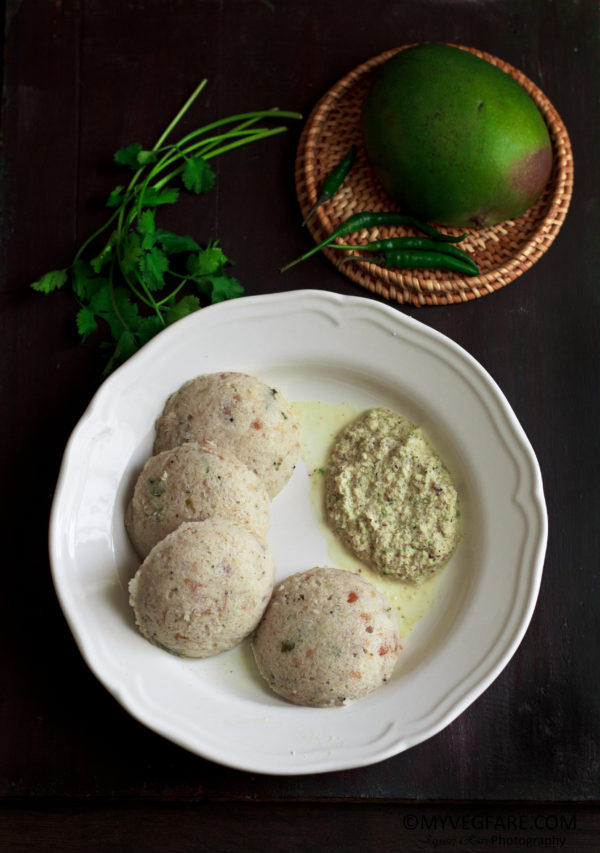 Idli consists of very minimal ingredients, nothing should go wrong right? but, it does surprise? and why south Indians are crazy over this is a million dollar question? Every time asking each other if the  Idlies turned out perfectly.  These pillowy soft cakes are just a perfection of art!  don't be surprised if it doesn't turn out well!!  Ground to perfection and the right fermentation is very important. Here is a little study for you to know about Idly, source: Wikipedia.
idly:Idli (English pronunciation: /ˈɪdliː/, also romanized "idly" or "iddly", plural "idlis") is a savory cake popular throughout South India.  It is made by steaming a batter consisting of fermented black lentils (de-husked) and rice. The fermentation process breaks down the starches so that they are more readily metabolized by the body. The originations of Idlis are unclear with the earliest mention in writing occurring in Kannada writing of Shivakotiacharya in 920 AD.
Idli has a long history in southern Indian cuisine. One mention of it in writings occurs in the Kannada writing of Shivakotiacharya in 920 AD, and it seems to have started as a dish made only of fermented black lentil. Chavundaraya II, the author of the earliest available Kannada encyclopedia, Lokopakara (c. 1025), describes the preparation of idli by soaking urad dal (black gram) in buttermilk, ground to a fine paste and mixed with the clear water of curd, and spices. The Kannada king and scholar Someshwara III, reigning in the area now called Karnataka, included an idli recipe in his encyclopedia, The Manasollasa, written in Sanskrit ca. 1130 A.D. There is no known record of rice being added until some time in the 17th century. It may have been found that the rice helped speed the fermentation process. Although the ingredients used in preparing idli have changed, the preparation process and the name have still remained the same.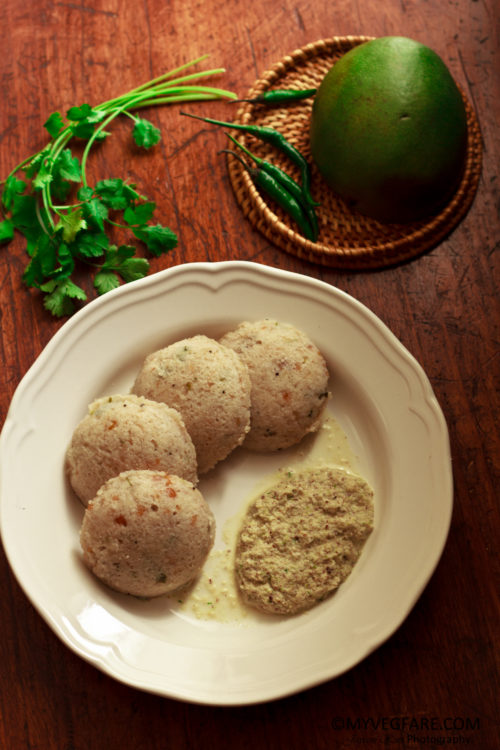 The Gujarati work Varanaka Samuchaya (1520 CE) mentions idli as idari, and also mentions its local adoption idada (a non-fermented version of dhokla. The earliest extant Tamil work to mention idli (as itali) is Maccapuranam, dated to the 17th century.
I love making Idlis with different Ingredients, I have shared a few Idly recipes here and soon will post some more Idly(two ways), Sweet corn Idlies, Kodo Millet Idli,  Moong dal Idli, Oats, Sweet corn, and Lapsi Idli.
Coming back to this Idli recipe, This recipe has been in my draft from past 2 to 3 years I think!. why Mango Idli? I know you might be wondering; well for so many reasons! I love Mangoes (who doesn't? Eh? right) and my most favourite is mango rice ( because I like savory dishes!!)  I simply love Mango Rice, and after that, I have 101 reasons to love Mangoes! It's Mango season in India now and you get so many varieties of Mangoes from tart to the sweetest in different shapes and flavours.  I can list a lot of varieties of mangoes and in that my favourite is Totapuri Maavinkaayi (A mango shaped like a parrot) which I love to eat it just like that ! this is so yummy with just simple salt and chili powder brings back a lot of childhood memories.
This Idli is made with Instant Idli mix which I regularly make at home from the past few years now.  I started making these ready made Idli and Dosa mix and few more ready mixes when my better half used to stay away from home and these ready-made mixes helped him have his favourite breakfasts.
Mango Idli two ways (Maavinkaayi Idli) Instant and Regular method
A south Indian breakfast made with Mango!! make it with sour or semi-sweet Mangoes, these are so delicious and spicy and can be eaten on its own with a dollop of ghee or serve it with coconut chutney.
Ingredients
2

Cups

Rice Rava

(check notes)

1 or 1/2

cup

Poha (thin or thick)

(check notes and method)

1/2

cup

Sago pearls / Saboodana / Tapioca pearls

1/2

cup

Urad Dal flour

1/2

tsp

Fenugreek powder

1/2

tsp

salt

1

Cup

Sour Butter milk

(check notes)

water

as required

1/2

tsp

Eno Fruit salt

(check notes)
Seasoning for the batter
1

tbsp

oil

4 to 5

Green chillies

1

tbsp

channa dal

1/2

tbsp

Urad dal

1

sprig

curry leaves chopped

1/4

cup

finely chopped coriander leaves
For Mango Idli
1

cup

grated Mango

(check notes)

1/3

cup

freshly grated coconut
Instructions
Check the Notes on how I make Rice Rava, choose either one of the methods to make rice rava or instead you can use store bought.

Next make poha ready check my notes on how I use, You might be wondering when I said thin and thick poha 1/2 cup, thin poha occupies more space but the quantity will be less so use 1 cup poha when using thin poha. When using thick poha grind it to a powder and measure the quantity.

Next is Sabudana or Tapioca pearls grind them to a powder.

Next is Urad dal flour give it a fry in tawa for a minute in a low flame just so the flour is slightly warm to touch Next is fenugreek, use store bought or make it in your home. fry fenugreek in a kadai without oil in a low flame until it turns to golden colour let it cool then fine powder it in your mixie. Sieve and use the fine powder in this method.

Mix all the above said ingredients and you can store it in a jar and use it whenever you plan to make idlis, This is your ready made mix
For the Mango Idli
Make the seasoning or tadka with the ingredients said above, In a low flame heat a tbsp of oil add chillies, when they change colour add channa and urad dal, when they change colour slightly, switch off the stove add chopped curry leaves fry for a minute and coriander leaves and set it aside to cool down.

Meanwhile take the ready mix in a large bowl, to this mix the grated Mango and grated coconut you can even add grated ginger which is optional with salt thoroughtly. To this add the wet ingredients mentioned above start with the yogurt/buttermilk and leave it for 5 minutes.

when you leave it to obsorb the moisture, grease the Idli plates with oil or Ghee whatever you prefer, this helps in the Idlis to unmould easily once they are cooked.

The dry ingredients would have obsorbed the moisture from the Mangoes, coconut and the butter milk by this time, now to this start adding water and make it into a Idli batter consistency. Now to this add Eno fruit salt and mix it throughly.

pour the batter on to the greased moulds and steam in a pressure cooker with out the weight for 12 to 14 minutes in a medium flame. Once done, take them out of the cooker and leave it on the platform so they cool slightly unmould the idlis from the mould and serve these with coconut chutney!! Enjoy!!
How to make Mango Idli with your regular Idli batter
It's very simple follow the same method said above only thing you change is adding the grated Mango and coconut to the regular batter and adding the tadka / seasoning mix well together and Viola Mango Idli batter is ready to steam away!! cook and enjoy!!
Notes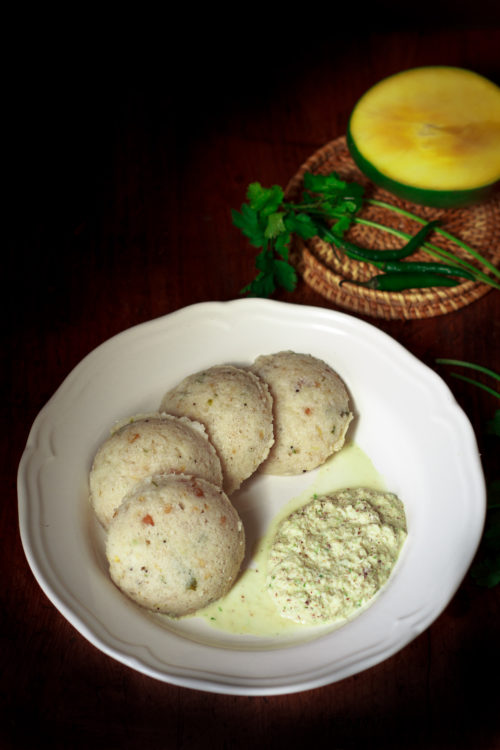 To make Rice Rava I use two methods:
when I don't have time:  I just grind rice in quick mode that is I quickly grind it in short bursts  and make it into a rava in my indian mixie.
When I don't have time: I wash and then leave it to drain for 10 minutes then fry it in a wok for few minutes, when it cools down grind it into a rava consistency.
Optional Instead of Rava: Instead of Rava you can use Rice flour, Millet flour ( when using millet flour I use Rice and Millet 1 and 1 of each)
I use poha in two different ways, when I get hold of thin poha I wash it and soak it in buttermilk and mash it with my hand as it is mashable,  If I get hold of thick poha
Using Buttermilk:  You can use butteirmilk if you don't have buttermilk, you can mix 1/2 cup of sour curds/yogurt with 1/2 cup water blend it well and your buttermilk is ready. Or you can use just use 1 cup of yogurt.
Why we need Buttermilk:  Buttermilk/sour curd acts as an acidic agent and helps in fermentation.
Why we need Eno Fruit Salt: This acts as a leavening agent and helps in rising and getting that fluffiness in Idlies.
Not using Buttermilk: If you do not want to use buttermilk you can mix all the dry Ingredients expect curds/buttermilk and eno mix it with water as required to make it to a batter consistency and leave it to ferment overnight!! it's as simple and next day you can make idlis as usual.
Mango Idli: I have used two medium sized mangoes.  It came up to 1 cup loosely packed.
Water as required: Use water as required to make it into a Idli batter consistency.