Maddur is a town in Mandya district, as Mandya is famous for sugar, Maddur is famous for its Vada! Vada is a fried snack usually made of lentils and dals but the speciality of this vada is, it is made with Rava! is spicy and tasty with the addition of onions!
Maddur is a town lies in between Mysore-Bangalore highway!  They sell this vada in trains and buses and who travel between these places would definitely know about this.  I have loads of memories associated with this snack! every year like a ritual from our childhood would travel to aunt's place for our summer holidays.  Even after I got married I used to take my kids and go to Mysore!  The love and affection from my Aunt's family have always been so immense and strong, even today I visit them every time when I am in India!  I could simply write loads and loads of memories my life in Mysore.   This is mum's recipe for making Maddur vada, anybody travelling between Mysore-Bangalore route would have definitely noticed that people come selling
This is my mum's recipe for making Maddur vada when the train comes to Maddur, we would pester our mum to buy us these when we were kids! they used to be so crispy and tasty, these days it's not really exciting as the vadas are not hot and crispy as before they are quite cold and I feel they have lost their original taste but, it always makes me feel the nostalgic memories associated with it!   Making this at
As we used to love it so much Mum started making this at home which is much more tastier and healthier, as I know what goes in it and the fresh oil she uses to make these. When it is raining just munch on these spicy crispy vada with a cup of tea in one hand and holding vada on the other hand and stare out of the window and enjoy the rain pouring down the window sill.  Lot of people must have posted this recipe, here is my version of it....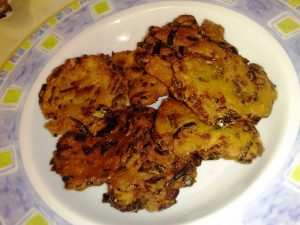 1 cup Rice flour
1 cup Rava / semolina (fine)
3 tbsp Maida /APS
5 to 6 sprigs of curry leaves
4 tbsp of hot oil
3 to 4 medium-sized onions
6 to 7  green chillies*
salt as required
water as needed
1/4 tsp Hing / Asafoetida
Oil for deep frying
In a Bowl mix rice flour & soji /Rava and then mix it thoroughly with salt
 Add hot oil and then mix again, the end product will be soft and crispy!
Add finely chopped onion and leave it for 10 to 15 minutes.  Onions release water.
Now mix all the other ingredients and add water little by little and make it into a chapati dough consistency, do not exceed the water requirement otherwise the dough when fried in oil will absorb too much oil!
sHeat the oil and keep it on a low to medium flame.  Check that the oil is hot by dropping a little dough into it, if the dough comes up immediately then the oil is in perfect state.
Smear a little oil onto your palm or little oil on a plastic sheet, Take a lime sized ball out of the dough and flatten them on your palm or on the plastic sheet, slide it into the oil and deep-fry until they are golden brown in colour, turning it now and then for equal cooking on both sides.
once done remove it on to a kitchen towel to absorb oil.
Serve hot with a nice cup of tea or coffee or with coconut chutney!
Enjoy!!
NOTES:
My mum's way of making it is, not using any Maida at all ! My Mum doesn't like to add maida, she feels as using maida gives a stretch to the vada but, as we love it crispy she makes it with just semolina and Rice flour same measurements as above sans Maida! This stays crispy the next day as well if anything is still left!  You can add Red chilli powder and reduce green chillies and also you can add 1 or 2 tbsp of fresh coconut.