Hai, Back again, but a little late, I have been all day, thought I need to post soon before the closing time, I made this sometime back, but never made it to post, because I had completely forgotten about it, I thought I will choose from my Rice Varities and re-post them!!, but then I changed my mind, when I saw this in my draft, I decided I will post this!!.
Today was my twins, parent's meeting in the school for choosing their GCSE's subjects, So, came home late and had to cook something up and had food, Everyday I try to make something new, and I have so many drafts piled up!!, They must be wondering when will we ever see the world!!, poor little sweet, sour, savoury, baked, cooked, steamed etc., Ooops !!, I thought i will better stop, it went on in my mind like Railway Bhogis (carriages) !!, sorry if you know me personally or chatted with me like my friends and family they would tell me how I mix tamil, telegu, kannada when I am talking I mix everything like a chitra anna!! :), I spoke to Raji once, she must have been very amused the way I spoke!!.
Coming back to recipe…, R wanted to eat chilli bajjis/bondas, so when he went to London he got these Long Green chillies, quite a few of them, so, I made some bajjis, but still there were so many of them, and as I had to cook something to eat, It just crossed my mind why not use these Long green chillies than veggies again for making a Rice bath, so that's how this chilli Rice came into my kitchen's joining my Rice Varities.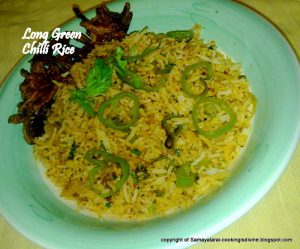 INGREDIENTS:
2 Cups of Rice
5 and 1/2 or 6 cups of water (It totally depends on the Rice you use)
1 large onion
3 cloves of Garlic
6 to 8 Long Green Chillies (They were quite very long!!)
6 to 7 sprigs of coriander leaves
4 to 5 tbsp Oil
MASALA FOR RICE
2 tbsp of Coriander seeds
1 tsp Nigella seeds
1 tsp Fennel/saunf seeds
1/4 tsp Red Chilli powder
fist ful of Ground nuts roasted (I used salted peanuts)
1 tbsp of dessicated coconut (dry copra)
SEASONING:
4 to 5 tbsp of oil
1 tsp of Mustard seeds
1 tbsp Chenna dal
1 tbsp Urad dal
1 sprig of curry leaves
1/4 tsp of Turmeric powder
METHOD:
Take a wok, fry with a 1/4tsp of oil, the coriander seeds, nigella seeds, fennel seeds, and Ground nuts, but I always use, Dry Roasted salted peanuts, which I get here easily, which saves me from roasting them!!
If you are using dried Ground nuts for roasting, once they are rosted take the skin out and then use it.
Once when everything is cool, put everything together and grind them into a powder and keep it aside
Cook Rice as you always do, add a tbsp of oil, which helps the rice grains saperated when cooked, spread it out and leave it till needed
Take a large wok, heat oil and add all the seasonings one by one when they change colour, add the chopped onions and garlic, fry them until they are translucent
Then add the chopped Long green chillies fry for few minutes say around 5 to 10 minutes in a medium flame.
Add the chopped coriander leaves
Then add the masala powder mix well add salt and the Rice,
Mix all of them well together and it is now ready to serve
Optional : These chillies were not very spicy even then I did not add extra chillies, they were quite perfect, If you want you can add green chillies
You can even add a dash of Lime juice if you feel like it.
Enjoy this rice, and this rice is going to Anita's -APS Rice.
I also wish to send this to JFI – Fennel event hosted by Siri of Siri's Corner started by Indira of Mahanandi.