Avarekalu or Avarekayi is the most favourite veggie to the people of Karnataka!  December is the starting season to get these and we have an Avarekalu Mela(festival). Avarekalu should have a sogadu! Sogadu is kind of a smell from the freshly picked Beans, cannot really explain it!
Avarekalu or Avarekayi is nothing but Hyacinth beans / Field Beans / Flat Beans / Lima Beans and 'Mochai' in Tamil. Of course, I really don't get Avarekkai here, When it was the season for Avarekkai, I used to hate it, MIL and  FIL loved it so much. Not that I didn't  like it, I mean I too love it, but, not every day, it was like madness, so many Kgs of avarekkai, It was a task to keep on removing the skins and piling up Avarekaalu!!
OH! my God!, Do I miss it now !?, Absolutely, now I wish I could get a few times at least, just to satisfy my tongue tickling every time I dream and think of the flavour and all the recipes I could muster up with that sogadina Avarekaalu I do miss it!!
This is a simple Lima Beans curry, which I learnt first from my friend R some 20 years back, but I always loved it.
As I was still not allowed to use Garlic in the house!!, Daddy was not always happy when I used Garlic !!, Those days I used to buy this ready-made Ginger-Garlic paste!! and use it whenever I needed them, now if you see in my kitchen I have a stock of  3 to 4 bulbs of Garlic, When my FIL visited me, I had virtually stopped using them,  even my Parents-in-law don't like the smell.  I use them a lot because of its Medicinal value, This remind of an incident very long back when I was in my 10th standard my daddy was diagonised that he had  peptic ulcer and he was advised by doctors that he should eat Garlic for at least a month, which would cure his problem soon, That one month I still remember my Dad was acting so stupidly, he used to be always screaming at all of us, we were scared to talk to him, only my youngest sis had the guts to shout back at him and make him eat that!!, now when we remind him of those days we all have a hearty laugh.
My mom used to take rice in a bowl and peel exactly 5 garlic pearls peel the skin and put them in it and cook, you must be wondering why 5, My dad was so adamant that he made a rule that if we wanted him to eat it, we also had to eat it!!, howzit ? He used to pick the pod with a morsel of rice, and just used to swallow it !!, God!!, he was acting so funnily !!,
Coming back to my recipe, as I do not get fresh field beans, I buy these frozen or dried ones and enjoy it, It  gives at least a smell close to the fresh Avarekaalu smell and  taste to the recipe.
LIMA BEANS/AVAREKAALU CURRY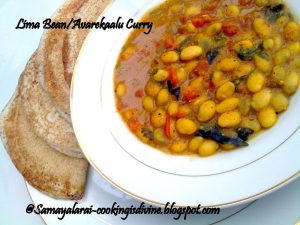 500 gms Averekkai / Lima Beans
1 tsp Garam Masala powder
1 tsp of chilli powder
1 tsp coriander powder
1 tsp cumin powder
1/4 tsp turmeric powder
1 tsp Garlic-Ginger paste
6 to 7 Green Chillies
2 medium sized Onions chopped
2 to 3 medium-sized tomatoes
3 – 4 tbsp of oil
1 tsp sugar
salt to taste
2 to 3 tbsp of fresh chopped coriander leaves
METHOD:
First of all, If you are using fresh field beans/Lima beans cook them soft with enough water, If you are using like me dried ones, soak them overnight with a pinch of Baking soda.
In the morning wash the soaked beans thoroughly with water at least 3 to 4 times, and pressure cook till soft.
Heat oil in a kadai, add the ginger- garlic paste and fry well, it becomes brownish, then add the chopped onions and fry till brown.
Add the masala powders, and fry it further few more minutes,
Then add the chopped tomatoes, fry for further few more minutes until it is well done,
Then add the cooked Lima beans/ Averekkai and the slit chillies, sugar and salt to taste, with enough water making it into a gravy consistency. (If it is too watery add a tbsp of corn flour dissolved in 2 tbsp of water and add it to the gravy)
Garnish with chopped cilantro or coriander leaves fresh!! for further few minutes.
NOTES:  Please Adjust spices according to your taste as the chillies and spices vary from one Brand to other.
Don't forget to sign up for email updates to get new recipes delivered right to your inbox. You can find us on Twitter, Facebook, Instagram, Pinterest, and Google+ So follow us if you can…We would love to keep in touch with you all:)