I have been posting recipes from other bloggers, this is my turn now, I got this recipe from my sister's book, even though she never cooks this as my BIL never allows Garlic inside the house. It's so funny when he asks me to make pulov, I love using Garlic in my pulav and he never allows me to use it, so I get satisfied using a ginger-garlic paste (which he doesn't know!).
I had copied this recipe when I went last time, but never bothered to try it out, when I called her for a gujarati recipe she reminded me of this. I had to tweak this recipe a little bit, I had some potatoes already boiled and peeled, I did not know what to do with it, so I squashed them added a bit of salt and I made small potato balls just like small New potatoes, and then used less Garlic than the recipe indicated.
LASANIYA BATATA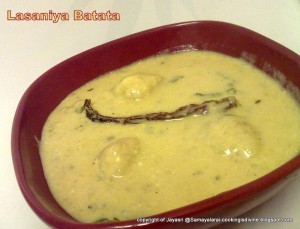 INGREDIENTS:
8 small Potatoes
4 to 5 Garlic cloves
1 tbsp of chilli powder
1 tsp of cumin powder
1 and 1/2 tsp coriander powder
1 tsp Garam masala
1/4 tsp of turmeric powder
few sprigs of coriander leaves
1/2 cup of Bengal Gram flour
1 and 1/2 cup of water
2 to 3 cups of yogurt
salt as required
METHOD:
Cook the potatoes peel the skin, (as I had already told you, I used the potatoes in a different way, as they were left over).
Take a wok heat 3 to 4 tbsp of oil and fry the potatoes into golden brown.
Meanwhile In a bowl take bengal gram flour using water make a paste to this add the other powders and keep it ready.
To this itself I added cumin seeds when it crackled I added chopped garlic, do not fry it too much just a little bit.
Then to this add the flour paste, do not make it too thick, let it be in thin consistency boil this, until the raw smell disappears, do not leave it unattended as it will start thickening and might get stuck to the bottom !!, stir it continuously for further 10 to 15 minutes then add the roasted potatoes and chopped coriander leaves, required quantity of salt and yogurt, mix well and keep stirring continuously for further 10 minutes, do not stop stirring otherwise yogurt and water split apart! It's just like making Morkuzhambu, If you are scared it is better to mix them well and leave it for 2 or 3 minutes and watch the edge of the curry you can see small bubbles popping up, then it's time to put off the stove, otherwise they split apart.
I simply gave an other tadka/seasoning with a tsp of mustard seeds, 1 Red chilli and a sprig of curry leaves.
I wanted to make Jagruti's Bajri Na Rotla to go with my Barwa Baingan, I couldn't locate my flour, I was quite disappointed, check out her blog on that, she has some lovely Gujrati recipes from her kitchen, and she calls them Kem cho series.
I am sending this to Flavours of Gujarat by simply food sensations.