It is becoming cold and cold here, the temperatures are freezing down, I had planned I will post my other DB challenge recipes, ICC recipes, nothing seem to work out, as I am sick with cold, cough and fever, I had this in my draft from a long time, I made this when this girl was still a budding blogger now she has her own website, and of course a wonderful one too.., check out her blog.., As I was browsing her site one day I found this name very appealing!, I have been to Kumbakonam for just a visit to the temples around, never knew about this dish. when I read the Ingredients I was interested as it had Moong dal in it! who will not get tempted and I would not worry about this being gone in a jiff in my home as everyone of them is crazy of Potatoes.
Coming back to the recipe.....
KUMBAKONAM KADAPPA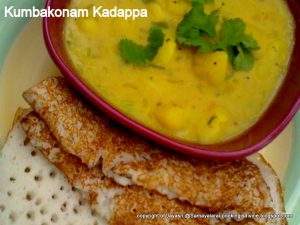 6 to 7 Medium sized Potatoes
1/2 cup Moong dal
1 Medium sized onion
2 Green chillies
2 pods of Garlic
salt as required
1/4 tsp of Turmeric powder
6 to 7 sprigs of fresh Coriander leaves
1 tbsp of Lemon/Lime Juice
A few curry Leaves
A Pinch of Asafoetida
1/4 cup grated fresh coconut
2 Garlic pods
3 Green chillies
1'' Cinnamon stick
2 tbsp Daria dal/Pottukadalai/Roasted split Gram dal/Chutney dal
1 tbsp Poppy seeds
1 tbsp Coriander seeds
1 tbsp of Oil
1 tsp Mustard seeds
1 tsp Cumin seeds
Chop the onion, Garlics and keep them ready.
If you want you can cook the potatoes previously or if using her method you can cook them in the pan after the tempering is done directly.
I cooked my potatoes previously in my pressure cooker, removed the skin and kept aside. when cooking the potatoes I had also cooked the moong dal in a separate container with 1 cup of water in the pressure cooker and kept it aside too.
Now Grind everything the header to Grind into a smooth paste with help of 1/2 cup of water and keep it ready too.
( You must first grind everything to a kind of powder/paste first without adding water, so the small things of masala used will grind well, if you add water in the beginning the masala will not grind to a smooth paste as we require to our consistency of smoothness this is applicable to all kind of gravies, sambhars, kootus we prepare).
Take a deep pan/kadai, heat the tbsp of oil add mustard seeds, cumin seeds and when they start spluttering up add chopped onions and Garlic and fry until they are transparent then add curry leaves give a slight stir then add the cooked potatoes and Moong dal then around 3 to 4 cups of water depending upon how thin or thick you want it, I added more water as I wanted it like a gravy for my Dosa then add required quantity of salt.
With an other 1/4 cup of water I made a liquid paste of the ground Masala (I usually add little more water once I grind to make into a nice liquid paste so when I pour into the boiling gravy it should not form any lumps and not mix well properly, this way I am sure it mixes well) and added it to the cooking Potato Dal, stirred it well and allowed it simmer for few more minutes, until the raw smell disappeared and the gravy started thickening.
Well that is done now, add the chopped Coriander leaves mix well, switch off, add the tbsp of lemon juice again give a good mix and serve hot with Chapatis, Dosas or Idlis
As she enjoy this Kumbakonam Kadappa with all the wonderful spices in it...
Oh! I forgot to tell you who it is right ? It is none other than
Sowjanya of Ruchika Cooks
check out her blog for the details of the Place and details of how she got into this recipe... Thanks dear for this lovely recipe.
Another click of my Kumbakonam Kadappa ..........
I am sending this to Priya and Aipi's Book marked recipes on Tuesday, (I am keeping my word on this right ?), well I am rocking by posting my tried and tested recipes :))