Hi everybody, How are you all doing ?, I have been absent for a long time now, well for a reason, you will soon come to know and hope you will all support me as you have done, well today, I am posting this for a reason, every Indian home uses lot of Legumes/Lentils/Pulses in their Kitchen, we love using them almost every day in one form or another,
Susan of The well seasoned cook
loves legumes just like we do and she made it a point by making an event called My Legume Love Affair (MLLA-61), which is now been carried on by
Lisa of Vegetarian Kitchen
and this month it is hosted by
Aparna of My Diverse Kitchen.
I am sending this in the last minute as I had noticed this event announcement just yesterday.
This is a Chutney I make sometimes which goes well with Rice and is called Thogeyal as we roast the Legumes/Lentils/Pulses and grind them to a paste.
Try out and tell me if you like it...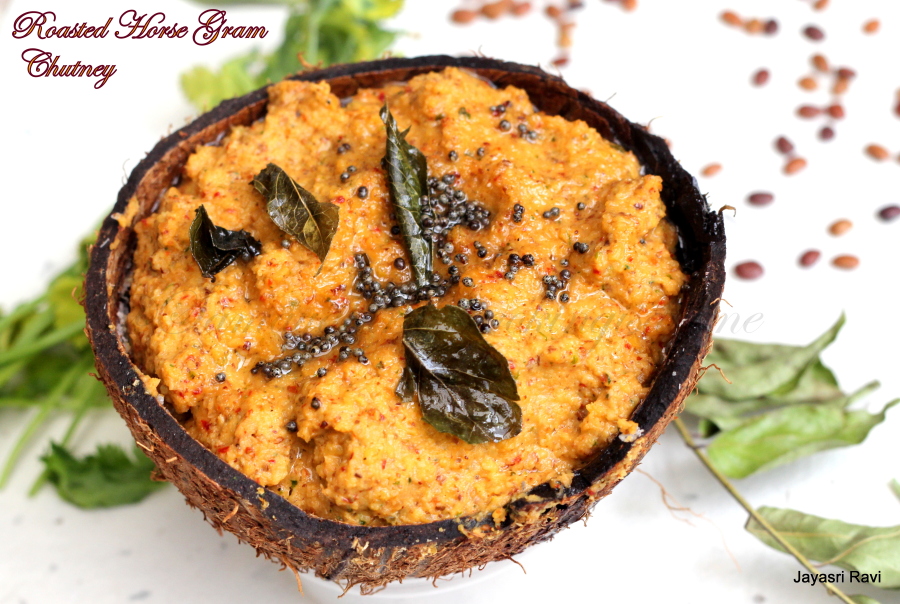 Horse Gram in English is called in local Indian Languges in different names according to the region Kollu/ Kulith/ Hurli Kaalu/ Muthira / Ulavallu  are some of them.  We use them in different ways, Horse Gram is rich in proteins & Iron, Our elders in the family used to say, that it should be used in limited quantities. Pregnant woman were not allowed to eat usually in the earlier stages of pregnancy almost 6 to 7 months, as according to Ayurveda it produces heat in the body so usually is used in winter like a winter warmer, making soups, Rasam (Hurali Saaru), Molake kattida palya (sprouted stir-fry), Podi, Basaaru etc.
This is a chutney which I have made using Kollu and Paruppu, I made this with Dosa.. spicy and nice..
KOLLU (HORSE GRAM) THOGEYAL (CHUTNEY) 
Recipe: south Indian
cooking time : 30 minutes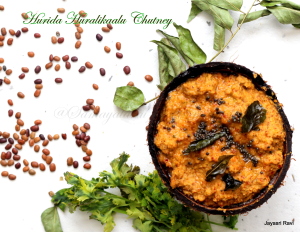 INGREDIENTS:
2 tbsp Horse Gram
2 tbsp Channa Dal
1/4 cup (nearly 50 grms) freshly grated coconut
5 to 6 sprigs of Coriander leaves
5 to 6 leaves of curry leaves ( Karuvepillai / Karibevu)
5 to 6 Red chillies ( used 5 Byadgi & 2 Guntur )
2 to 3 flakes of Tamarind
2 tsp of Rock salt
Pinch of Asafoetida
little oil
1 tbsp of oil
1 tsp of Mustard seeds
3 to 4 curry leaves
In a wok take little oil 1/4 tsp fry Horse Gram for 5 to 10 minutes in a low to medium flame, remove it on to a plate, in the same wok with 1/4 tsp of oil add channa dal and fry until it changes to golden colour.
Now take both of them in the same wok together, to this add Red chillies, coriander leaves, curry leaves and  Tamarind and fry for few more minutes switch off the stove and to this add coconut and fry for 2 minutes.
Allow it to cool down, take it in a mixer to this add salt and asafoetida and grind it into a powder do not add water as you want it completely powdered well. You can keep it just like that and use it as a powder ( fry coconut a bit more time ), will store up to 3 to 4 days I think OR proceed and make it into a chutney like this....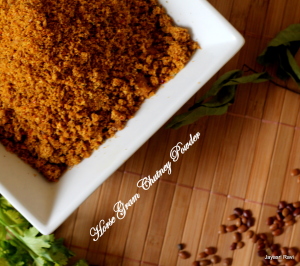 Once done add 1/4 to 1/2 cup water and grind it again for an other time just once it mixes well and becomes a chutney.
In a little kadai (pan), heat oil add mustard seeds once they splutter add curry leaves and switch it off pour this on the chutney and enjoy.
Enjoy with hot rice topped with a tbsp of Ghee or as a side with Dosa or Idli, it also goes well with Venthya Kozhambu.